3 Ways to Use Fishbowl Braindate for Better Group Conversations at Your Next Event
Fishbowl braindate is a new, virtual group conversation format that we've invented to help you have better, more interactive group discussions.
---
It welcomes up to 50 people to participate in a discussion where 4 people speak on-screen at a time while others watch, with the option to switch roles at any time.
Till date, participants at major global virtual events have created close to 400 fishbowl braindate topics, using this new feature to form 17,000+ connections!
Clients have been using this conversation format in creative ways to elevate the way their people gather and exchange ideas during large group discussions.
In this article, we'll share the top three ways in which you can use this feature, to spotlight your experts, maximize connections, and offer guidance to your participants, pre-, during, and even post-event.
Top 3 ways to leverage fishbowl braindate at a virtual event:
Note: In all three use cases listed above, fishbowl braindate hosts have the option to make other participants their co-hosts. Now, you and your partner-in-crime can officially come together to facilitate memorable discussions.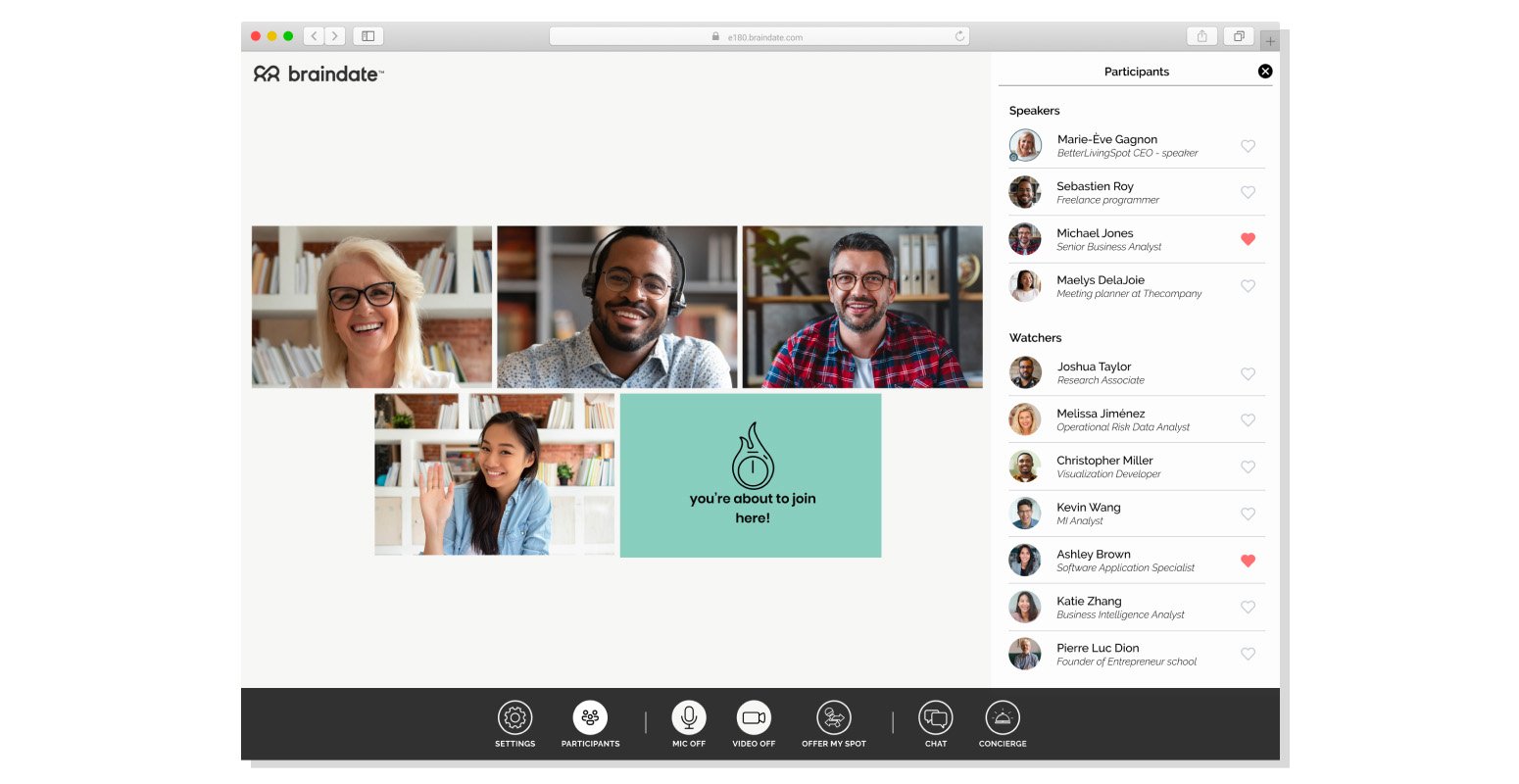 1. Spotlight your experts in a moderated session
Use fishbowl braindate to help leaders at your event, community, or organization showcase their expertise. This can be done in the following ways:
Speakers at your event can host an Ask Me Anything to dive deeper into the topics covered during their keynote address or event session. This gives speakers an opportunity to collect detailed feedback from participants, and it gives your attendees the rare chance to connect with speakers in a more intimate setting.
Internal experts at your organization can host office hours, Help Me Solve sessions, live podcasts, and product launches to answer questions about your product and/or services, and solve customer challenges in real-time.
Select participants in your event, community, or organization, (be they industry leaders, partners, or sponsors) can share their thought leadership or host a mentorship session in a setting designed to maximize audience interaction.
2. Empower your participants to connect with as many people as possible
Currently, fishbowl braindates can be used to host up to 50 participants in a discussion. Despite the large number of participants, this format still enables the same level of interactivity and engagement that you've come to love and expect from the Braindate platform.
Numerous fishbowl features (from the hot seat to screen-sharing to participant chat) ensure that every user has the ability to make a meaningful contribution to the conversation in the way that feels most comfortable to them.
Not only can you use this feature to skyrocket the number of connections between participants, it also allows your attendees to get more perspectives than ever on a topic they care deeply about.
3. Leverage fishbowl to onboard your event participants
The level of participant onboarding can often make or break an event. Be it pre-, during, or even post-event, you can use fishbowl braindate to guide your participants on how to make the best of their experience at your virtual or hybrid gathering.
Here are some of the ways clients have done this:
Pre-event: host fishbowl braindates to share vital need-to-know information about your experience.
During the event: use fishbowl braindates to dive deeper into event sessions that have passed, or preview and build excitement for event sessions that are coming up.
Post-event: leverage fishbowl braindate to collect feedback, advise participants on how they can stay in touch with each other, and reveal other activations you have coming down the line.
---
Ready to change the game when it comes to large group discussions at events?
We're here to help you find the best use case for fishbowl braindate at your next event. Drop us a line, to find out more.
Free resource
52 Powerful Conversation Starters
By downloading this content, you agree to receive the Braindate Monthly Newsletter to which you can unsubscribe at anytime.