Special Report: The Global, Retrospective Impact of Braindates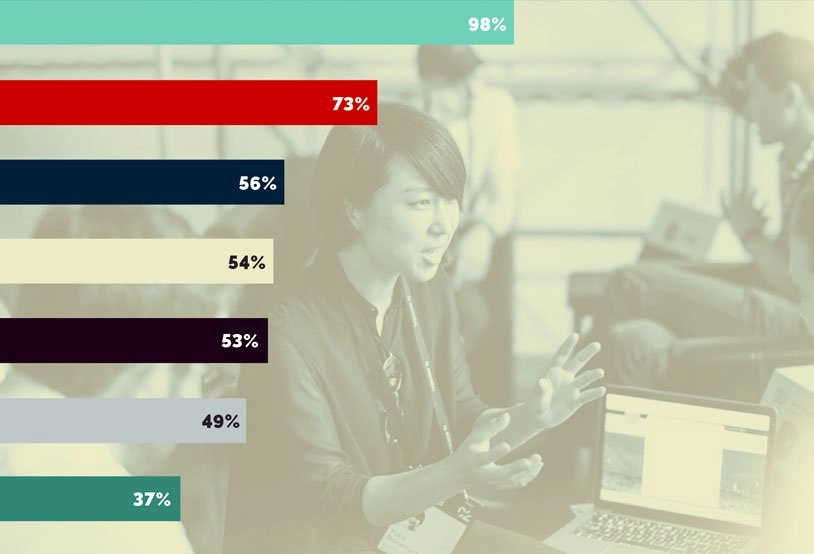 Can braindates really transform communities? We hired a team of impact evaluators to find out. How we did it, and what we learned.
---
For a company that is mission-driven and strives to stand by its values (achieving certified B Corp status, for starters, and even winning two B Corp awards!), the concept of measuring our impact is vital. It's the "walk-the-walk" side of talking about being in the business of creating social good, we hope, through braindates.
Over the years, we've collected some assumptions about the work that we do. They range from the philosophical—that a conversation is the best way to learn from new people, and that knowledge-sharing strengthens communities—to the technical—that pre-event emails are the key to a successful Braindate marketing strategy.
In the fall of 2019, we decided it was time to test our hypotheses. So we set out to collaborate with a third-party impact evaluator; someone who specializes in measuring and analyzing a program's results through rigorous data analysis and feedback collection. And importantly, someone who didn't know us at all and whose job it is to conduct objective, third-party assessments of organizations working to achieve specific impacts within stakeholder communities. We found an awesome firm (a Canadian B Corp!) that specializes in impact evaluation, Cathexis Consulting, and thus began our process.
Here's how we framed our study and collected data—and what we learned.
Some highlights that our impact study revealed:
81% of participants would be more likely to attend an event with Braindate
96% of participants consider Braindate a valuable part of an event and 54% of participants call Braindate the highlight
Nearly 70% of clients observed that Braindate helped participants to become active learners
65% of clients saw Braindate increase overall participant engagement.
Read on for the full report!
Framing Our Intentions: a Theory of Impact
Before kicking off any data collection or analysis, the first step in our multi-month process of evaluating impact was to decide what kind of impact we hoped we'd see. From there, we'd design our survey tools around evaluating our progress related to these benchmarks of impact-success.
Guided by Melissa and Rochelle at Cathexis, we worked through the seemingly simple question: What kind of impact do we at e180 hope to have with Braindate?
Keeping in mind Braindate's two key stakeholder communities—participants and our clients—we identified the principle intended impacts we hoped Braindate was having, like,
Participants establish fruitful, long-term relationships with new people
Clients (such as event organizers) event communities are more connected or cohesive
Participants' lives or work are enriched by new ideas
Event communities become engaged learners, not passive content consumers
Presence of Braindate at our clients' events translates to higher approval and retention rates.
In all, we identified seven impact goals for Braindate participants, and nine impact goals for our clients (for a total of 16 impact goals!). Next step: aggregating our available data, and setting ourselves up to gather additional feedback to start measuring our progress towards actually achieving some of those impact goals.
How the Analysis Worked
Once we established our Theory of Impact, the next step was to aggregate Braindate data for for Melissa and Rochelle to analyze three years of qualitative and quantitative findings. Was Braindate actually helping participants to have meaningful, learning-focused conversations? Were they staying in touch? Were event communities strengthened through braindates? We were about to find out.
To prepare, we created four in-depth survey and interview tools to support Cathexis' outreach to select clients and participants. The purpose of the surveys was to collect fresh data to shed light on the broad participant and client impacts, while the interviews served as a chance to hear from willing participants and clients about their respective experiences working with us, using our product, and monitoring the short and long-term results of our collaborations on a personal and organizational level.
Finally, Cathexis worked closely with three of our long-standing partners—ROI, GE, and Startupfest—to develop case studies of Braindate and its medium to long-term impact on diverse communities.
Once all the data was collected, analyzed, and evaluated against our framing Theory of Impact, the Impact Study was complete. Here's what we found.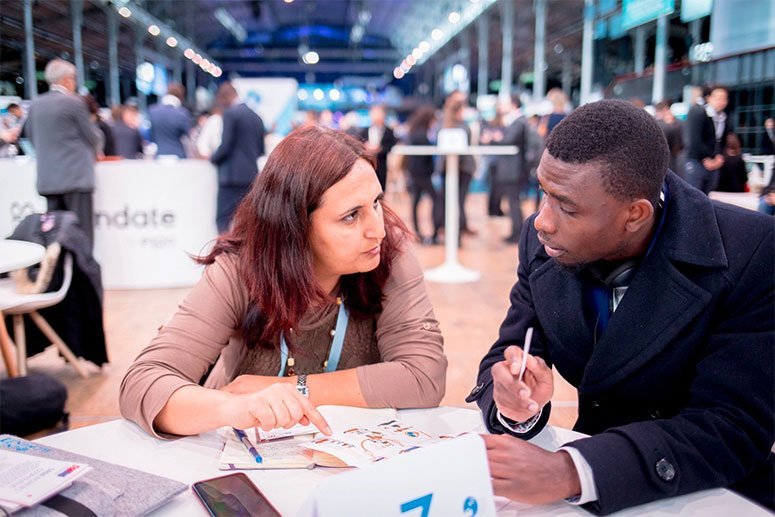 High-impact Highlights
In the spirit of radical transparency (one of e180's many values that inspired our desire to complete this study), it's important to keep in mind that an impact study isn't all about big wins and validated assumptions. It's about keeping ourselves honest about the progress we're making (or not), the impacts we're having (or not), and from there, to figure out how to move forward.
If you're curious about the nitty-gritty (and you like beautiful graphics, awesome participant and client stories, and want to explore some of our three earth-shatteringly awesome case studies…), contact us and we'll share an executive summary of the study with you. We'll also gladly join you for a virtual beverage to discuss it!
For a quicker resume of the highest highs, read on! (P.S— a note on process: The client-facing results are based on in-depth survey responses and some interviews among 26 of our cherished clients and past partners. The participant-facing insights are drawn from 126 survey respondents and about a dozen participant interviews. Certain qualitative conclusions were drawn from over 1200 participant testimonials, which were coded and analyzed.)
Curious about the broader findings of the study? Contact us here for a copy of the executive summary.
The Big Picture
To frame the study, we did a quick analysis of the high-level Braindate activity statistics from 2017-2019, which looked a little like this:
We facilitated nearly a hundred thousand Braindate connections in those two years, at events in more than 30 countries. Most of those events share these top three reasons for working with Braindate.
Nearly all (96% of surveyed clients) of our partners chose to work with us because they were searching for more effective networking solutions for their communities. We love that: one of our favorite parts of collaborating with clients is to help them reimagine what networking can look like for participants. Think—less awkward small talk, more diving-straight-into-the-meaningful talk.
Our partners' willingness to redefine networking through collaborative learning is possible because 70% of our clients choose to work with us to provide a unique learning experience for their event communities. This goes hand in hand with the desire to super-charge networking: why not do both?
Finally, 52% of our clients come to us specifically in the hopes of leveraging braindates to build stronger event communities. So how did we do on those fronts?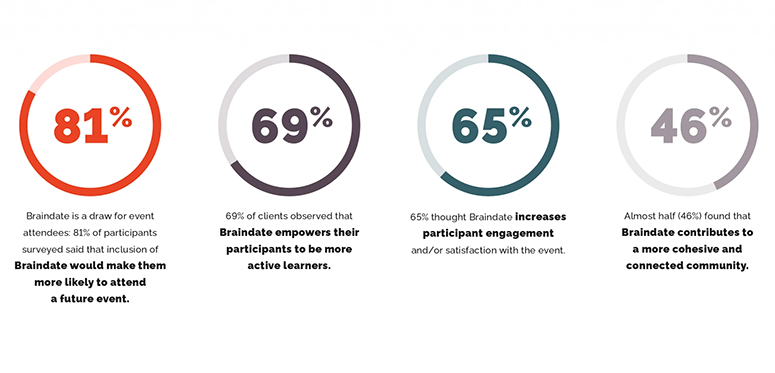 Ultimately, the vast majority (81%) of our surveyed clients reported that Braindate had met these needs. They shared the top impacts they thought braindates had on their communities:
Participants were empowered to be more active learners (nearly 70%)
Participants seemed more satisfied with the entire event as a result of braindates (65%)
Made the participant community seem more cohesive and connected (45%)
What are the top participant benefits of braindates?
Overally, 96% of all braindaters surveyed cited Braindate as a significant benefit to their event, or an overall event highlight. And for 81% of respondents, Braindate is even a key determinant of their decision to attend future events.
When we dug deeper through the findings from hundreds of participant surveys and interviews, we were excited to uncover the following top-reported benefits of braindates:
Meeting new people who otherwise they wouldn't have (98%)
Feeling of increased connection to the event and to the community (73%)
Learning something new and useful (56%)
Helped to appreciate the knowledge and expertise that they could offer to others (53%)
Making connections with demonstrated long-term value (49%)
Our take: —nearly three quarters of participants felt more connected to the community and the event as a whole as a result of braindates. That validates a key assumption we've held related to how we believe that the experience of braindates may help to humanize the kind of impenetrable thing that an event can feel like, and turn it into a cohesive community.
Braindates, we believed, can help restore a sense of belonging and connection by reminding us of how awesome (and helpful!) the humans around us can be. Now, we've proved it.
Finally, we're delighted to see more than half of our braindaters reporting that they'd learned new and useful things through their braindates. Even more exciting is that they also were able to turn that inward and feel some appreciation for their own stores of unique knowledge. Well…we told you! Everyone has something valuable to share with someone else. We're so glad to learn that now, you believe us!