2019 Recap: The Year Thousands Became Knowledge-Sharing Champions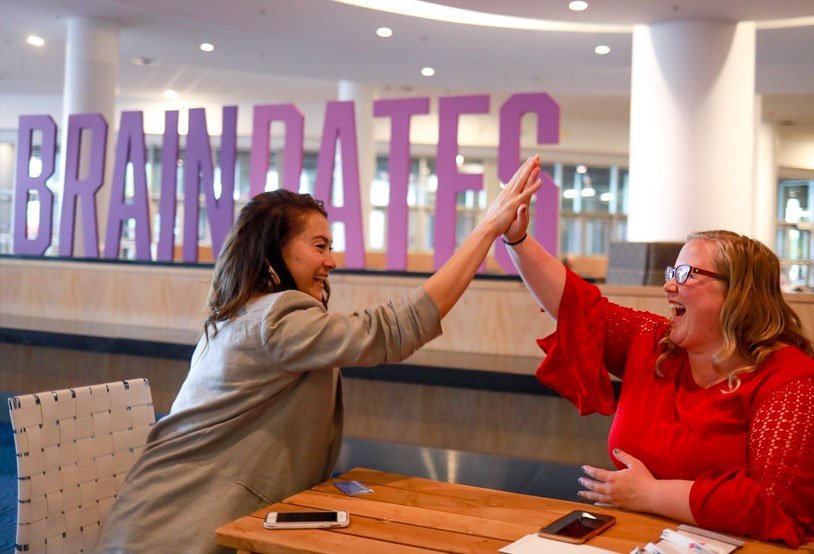 We share what you wanted to learn from each other, and how much time you spent doing it (Hint, it's as if you watched all 10 seasons of your favorite TV show 66 times!)
---
In her latest and continuing column for PCMA's Convene Magazine, our CEO Christine Renaud writes,
Learning isn't just about acquiring new knowledge. It's more than a cerebral process — it's a transformation that affects our identity, our habits, our emotions, and ultimately, the way we relate to others and the world around us.
The belief in this metamorphic power of learning is what continues to fuel our work. This year, as with the year before, our most cherished memories come from capturing those moments when you, the participant, learned something new, and took that first step towards transformation.
In 2018, we celebrated the vulnerability you brought to your conversations: how you turned the traditional notion of networking on its head by going on thousands of braindates and forming over 24,000 connections with each other.
If last year was great, then this one was one for the books:
In 2019, you went on 14,000 braindates, from which over 50,000 connections blossomed!
We're celebrating your continued (and growing) commitment to opening up to your friends and neighbours. We applaud your commitment to yourself, and your communities.
Stay with us, as we take you through 2019's biggest hits.
---
Discovering the subjects you were excited to learn about…
This year we brought Braindate to almost 90 events across the globe! These were crucial gathering representing dozens of industries including,
Software and Technology
Business
Real Estate
Medicine and Healthcare
Education
Innovation and Impact
Finance
When we began our work in 2011, we dedicated ourselves to changing the way people learn around the world. If you went on a braindate in 2019, you became a part of this movement by contributing to the 14,000 one-on-one and group discussions that we facilitated this year!
---
Through hosting your conversations around the world, we discovered the subjects that you wanted to dive deep into — the ones that sparked conversations across your different fields, sectors, and industries.
Speaking of conversations, here are just some of the top topics that you shared on the Braindate platform:
Knowing when to scale — when is it the right time to put the pedal to the metal?

Bringing creativity into corporate events.

Being a female in tech.

Scaling a profitable team!

How I built a highly engaged community of 4500+ professionals in 1 year with $50.
You had these conversations at events that took place in 38 cities, across 13 countries.
If we saw you at one of these events, it might have been at one of our many Braindate Lounges, designed to fill you with inspiration, and add a bit of joy to your experience.
Like the Braindate Lounge at Workday Rising — did we catch you mid-conversation inside a canoe?
Or maybe we saw you riding the L Train at the Educause Conference…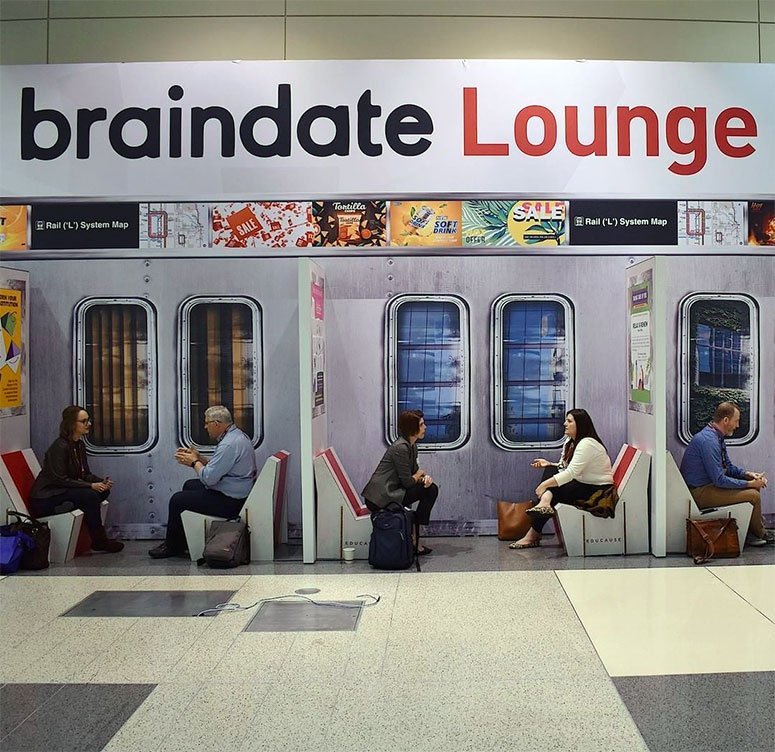 Or, our favorite — maybe we saw you beside (or inside) braindate bubbles?
---
As much as we love data, can it really capture the satisfaction of meeting someone who just gets you?
…it's a good thing you share your #Braindate stories with us!
Because of your enthusiastic embrace of collaborative learning, you helped us win the Skift Design Award for Best Event Networking Experience, and get shortlisted for Event Technology Award for Best Conference Technology and Best Event Networking Technology.
Your support motivates us to work hard everyday to do the very best we can for the communities we serve. This year, we were once again recognized among more than 2500 B Corps globally, as a Best For The World honoree for using business as a force for good.
We got to share our story and the lessons we have learned on our journey with our friends at PCMA's Convene Magazine and the Bizzabo Blog.

We had the privilege of being written about in CEO Magazine:
We were also recognized for our efforts to create inclusive, accessible networking experiences in Skift's Top 10 Event Trends for 2020:
---
Back to you, our knowledge-sharing champions
If you follow us on our social media platforms (Facebook, Instagram, LinkedIn or Twitter), you know we love to share articles that inspire us. This year, the two pieces that resonated the most with you were a study about the benefits of talking with strangers, and an article on the desirable difficulty of learning.
If there's one thing that was reaffirmed for us in 2019 is that we serve communities of beautiful individuals who are unafraid to be vulnerable, generous with their knowledge, and hungry to learn from the brightest minds around them.
We'll leave you with what might be our (your!) most important metric yet:
This year, you dedicated over 8000 hours learning from your peers at events around the world.
That's the equivalent of watching all 10 seasons of the TV show Friends at least 66 times.
Your commitment to your community and to learning from each other is proof that despite our differences we can come together to build a better future. Thank you.
We'll see you in the new year.