Our First Virtual Braindate Event: A Case Study in Virtual Hosting
A look at the brand-new Virtual Braindate—through the lens of our own experience hosting the first-ever Virtual Braindate event!
---
For months, we dreamed of launching a virtual iteration of Braindate that would enable our communities to learn from each other no matter where they are in the world. But other projects always took precedent while we were focused on bringing Braindate to exciting in-person events.
And then, the coronavirus outbreak happened.
An unexpected source of inspiration
Within a span of a few weeks, the events industry came to a grinding halt. Events were postponed or cancelled, with many of us unsure of what to do next.
Organizers began considering the pivot to virtual events, and we asked ourselves: What can we do to help our peers and partners reimagine the virtual experience so that participants felt the same joy and satisfaction of connection they did at a physical event?
As social distancing measures were put into place, signalling the end of most in-person events for the foreseeable future, we knew that we had to create something that our clients could use to help their people connect with and learn from one another with intention—despite the distance.
The time had finally come to launch Virtual Braindate—a project that had been cooking on the backburner and was suddenly more relevant than ever.
We decided to host our first-ever Virtual Braindate event ourselves, specifically for our very own community in the event industry. After all, there has never been a more urgent need for knowledge-sharing and collaboration than there is right now.
Our theme was Navigating Uncertainty: An #EventProfs Huddle. We hoped it would be an opportunity for us to come together and brainstorm, exchange resources, and support one another. We wanted to use the opportunity to imagine what the future of remarkable event experiences would look like.
Time was of the essence: we had exactly three weeks to develop our product and launch the event. Here's how we did it.
The Challenge: Bring a feeling of humanity to our first fully virtual event
Our objective with this event was to create an experience that felt unlike anything else out there in the virtual realm: by that, we mean we wanted our participants to engage meaningfully with their global community through virtual knowledge-sharing in the same way that they would through an in-person Braindate experience.
It was equally important for us to design a user experience where participants, despite the virtual setting, felt that, as their devoted hosts, we were actively anticipating and looking after their needs.
We were also first time virtual event organizers ourselves, which came with its own set of challenges: a tight 3-week deadline to not only develop our product, but also to plan and promote the event!
Based on our experience, we have written a helpful guide for planning successful virtual events of your own.
The Solution: Designing the Virtual Braindate event around guiding questions related to impact, engagement, and hosting
In the following sections, we take you through elements of that made planning, promoting and executing the event a success.
1. Visualizing the impact of the event
We anchored our planning process in this guiding question: What impact do we want this event to have on our community and how can we measure it?
Before starting to plan, we defined the impact we wanted the event to have in three categories:
Broad Event Objectives: What would success look like?
Success Metrics: How would we measure it?
Participant Takeaways: What would participants gain from the experience?
Beginning with visualizing the event's impact in these three categories was an essential first step towards planning the participant experience, and the engagement strategy we would need to get folks excited about braindating.
2. Creating a successful promotion and engagement strategy
Once we outlined the intended impact of our Virtual braindate event, we moved onto our second guiding question: How do we engage participants before, during, and after the event so that they understand the value of knowledge-sharing and are excited to take part in it?
Crafting an effective engagement strategy was crucial to the success of the event. For example, as part of our pre-event engagement strategy, we reached out to a number of thought leaders in the events industry with invitations to the event.
Our "Ambassadors" had early access to the platform so that they could post their topics and start sharing news of their participation—and their topics—on social media.
Promoting these ambassador's braindate topics boosted the event's credibility and of course, created buzz! Seeing their topics on the platform made event participants excited to join their discussions and start creating topics of their own.
3. The hosting magic of learning concierges
We then moved to our third guiding question: What do we want the participant experience to look like and how can we create a sense of belonging at our virtual event?
e180 has been bringing Braindate to in-person events around the world for close to a decade now. Part of what makes the Braindate experience unique is that it is facilitated by a team of learning concierges who are present onsite, where they'll do everything from welcome you by name to the Braindate Lounge, introduce you to the person you'll have a braindate with, suggest braindate topics based on your interests and learning goals, answer (any) question, and more. They can do anything; that's why they're your concierges.
In order to create a comparable sense of belonging at our virtual event, where participants felt safe, supported, and comfortable interacting with the platform and each other, we needed to translate the hosting magic of the learning concierges to a virtual setting.
We created a learning concierge chat feature on the Virtual Braindate platform, where a team of (real, human) learning concierges would be available to participants before and during the event.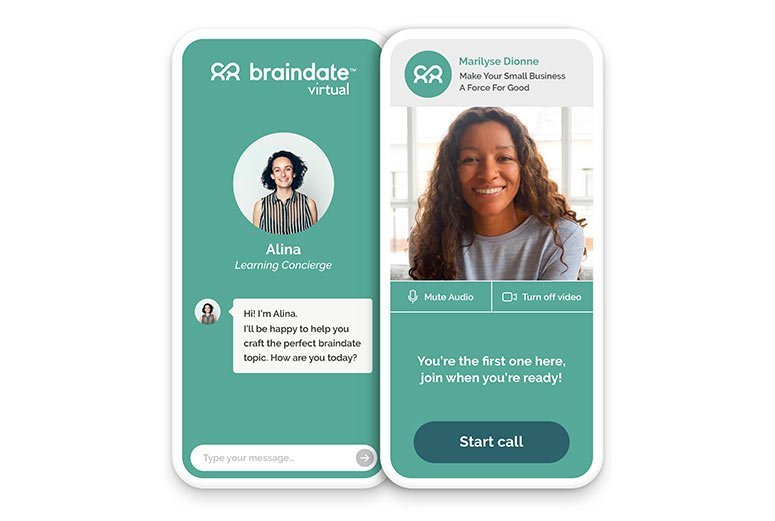 Our team of concierges played a significant role in ensuring that the participants had a seamless experience. They did this by:
Proactively reaching out to attendees to make sure they were comfortable using the platform
Coaching participants in identifying their learning goals for the event
Helping participants create the perfect braindate topic
Recommending group or 1:1 braindates participants could join
Sharing resources and tips so that participants had a great virtual meeting
Providing technical (and at times, emotional) support
In a post event survey, these were some of the top terms that participants used to describe our learning concierges:
What Happened: The Highlights
The event itself ran for 12 hours (!) in order to accommodate multiple timezones from Melbourne to San Francisco! Close to 800 people registered for the event, and these participants all braindated away for hours, building over 700 connections by the end of the day through one-on-one and group braindates.
Knowing that this would be our first-ever deployment of the Virtual Braindate product, we also developed a solid contingency plan in the event of a technical issue—something we recommend to all virtual hosts! During the event itself, when one such issue came up, we were able to hop straight into our well-rehearsed plan while we troubleshooted, and then transition right back to business as usual.
Overall, participants posted 124 braindate topics around themes of all kinds, the diversity of which represented the breadth of the challenges that the event industry is facing right now. But they also shared topics about their passion projects and triumphs, even their personal lives.
To give you a taste, these were some of the most popular topics on the platform across a whole range of "genres" (users self-organize their topics using keywords to denote particular interests, which helps others to find conversations to book that are most relevant to them.):
How to engage (distracted!) virtual audiences
Using virtual gatherings to support families in quarantine
How to bring joy to your team in a moment of crisis
Using art to move through isolation
Measuring the impact of virtual events…and many more.
The Stories
Here is what the experience was like, in the words of participants themselves:
Hosting our own virtual event was the best way to both launch and learn about the feeling of participating in a Virtual Braindate experience ourselves. To do so in such a way that allowed us to give back, in a sense, to the industry we love was a privilege in and of itself!
Virtual Braindate has since truly caught on: in the space of the three weeks since we held this first-time event, we've had the opportunity to deploy the Virtual Braindate experience in multiple countries (or, timezones!) with other clients and partners. Even with all the uncertainty around the future of the industry, and even the future of gathering—we're excited to move forward and reimagine it, together.