How to Give Your Virtual Event Participants More than Just Hallway Conversations
Case Study: Use Braindate to help your attendees make valuable connections, continue conversations started at sessions, and experience real connection
---
We know from experience that when it comes to the connection piece of a virtual event, planners want to replicate certain elements of the in-person experience. A phrase that we hear often is, "we'd like to recreate hallways conversations."
In the context of an event, a hallway conversation refers to the informal, unplanned exchange that a person may have with another participant.
Participants of virtual events often talk about how they miss these informal encounters— they miss the days of being able to strike up a conversation with a total stranger in line for coffee, or while waiting for a session to start.
In order to fulfill this need, event planners have been trying to recreate hallway conversations in the virtual world with creative solutions like chat roulette style networking between sessions, integrating open channels like Slack or Discord so participants can hang out and chat informally, etc. As it stands now, planners have not even come close to perfecting the virtual hallway conversation. Why? There are certain elements of a live event that simply don't translate well to a virtual context.
We're here to tell you to not waste your time trying to recreate the elusive hallway conversation of live events. It is far more fruitful to understand what participants actually mean when they say they want 'hallways conversations.'
With a decade of experience helping people connect, we can tell you exactly what virtual event participants mean when they say they want hallway conversations:
Participants want to make new connections
Participants want to have stimulating and meaningful conversations
Participants want to experience authentic moments of connection
Participants want to explore the topics and themes of the event in more detail
Participants want to feel like they're a part of something bigger than themselves, part of a community
Participants want to gather insights and share ideas with others in their industry or field of expertise
When it comes to engagement and networking, your virtual event participants deserve something better than just hallway conversations. In this case study, we describe what that might look like.
In the first week of February, we hosted Design Your 2021: a series of empowering virtual workshops and conversations designed to help participants turn their New Year's resolutions into actions.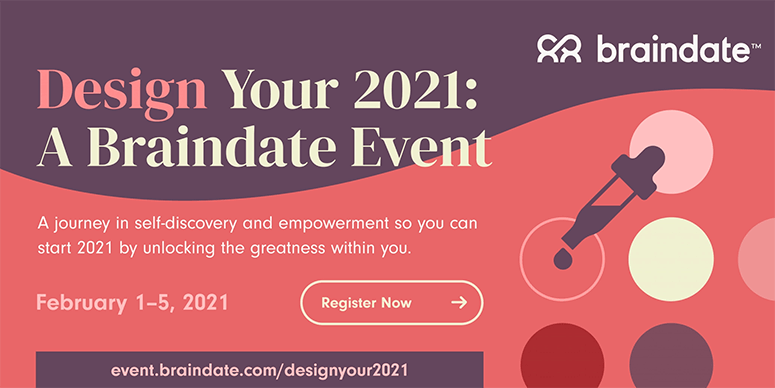 We empowered our participants to design their own experience, meet their event objectives, and have real, value-driven conversations with one another. We helped them make new connections, and most importantly, experience authentic moments of connection.
The best part is that you too can create an experience like this. Here's how:
Challenge
With Design Your 2021, we wanted to host a virtual event unlike any other. We imagined an interactive, self-directed experience where participants could feel a sense of community during a time of isolation and treat themselves to time well-spent reflecting on goals (personal and professional) that were most important to them.
Our challenge was to design an event where engagement wasn't an issue i.e. participants attending the event would meaningfully engage with the content and each other. They would hopefully leave the event satisfied, with new connections and actionable insights.
Solution
To create this kind of an event, we baked in moments of interaction into the event design. Further, we used Braindate as an additional channel of crowd-sourced content: a platform participants could use to discuss topics that were important to them and connect with each other over knowledge-sharing conversations.
1. Taking a participant-centric approach to event design
Given the theme of the event, design your 2021, we invited top facilitators to lead workshops on different aspects of turning your resolutions into actions. For example, setting your intentions, designing your roadmap, etc. Our facilitators designed their workshops to be as interactive as possible, so that no attendee had the experience of passively consuming content.
We curated the workshops so that each one's content was built upon the other. While participants could sign up for however many workshops, we recommended that they attend all of them to create the best possible plan to achieve their 2021 goals. In order to make this happen, we made sure to only offer 1-2 workshops a day (between Feb 1-5), so participants didn't have to take out more than 2 hours of their busy schedules to engage in our event.
2. Better than hallway conversations: creating time and space for real connection
Knowing that our participants lead busy lives, we didn't overcrowd our event agenda with content. Instead, we spaced it out, only hosting one or two workshops every day.
While we limited the frequency of workshops to one or two a day, we made the Braindate platform available to the participants all week long (every day from 9-5pm ET). This ensured that our participants had the flexibility to book their meetings at times that were most convenient for them.
By designing the event in this way, we gave our participants the freedom and autonomy to choose when they wanted to engage with our event and when they wanted to relax.
3. Offering Braindate as a way to collectively process ideas offered in event sessions
Towards the end of every workshop, moderators reminded participants to braindate, and suggested ways in which they could use the platform to further discuss ideas presented in the workshops.
In doing so, our objective was not to simply promote Braindate. Having worked with event planners for close to a decade, we understand that a big challenge of event design is creating a bridge (for participants) between consuming event content and processing the knowledge offered in sessions, together as a community.
We created Braindate as a tool planners could use to overcome this very challenge. Braindate is not just a novel way to network but a platform participants can use to delve deeper into event content, by discussing the ideas offered in it, with each other.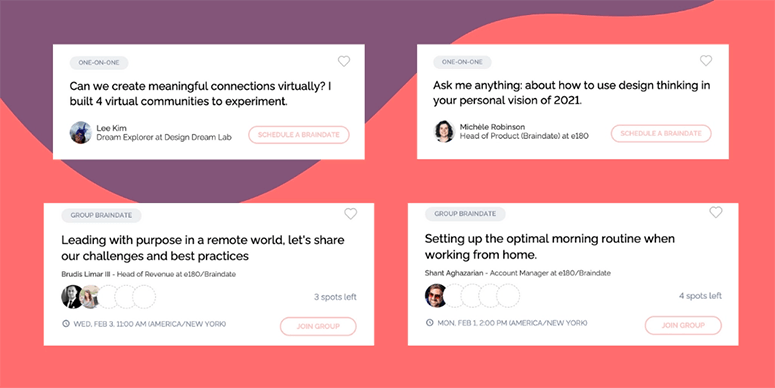 Therefore, by prompting participants to braindate at the end of every Design Your 2021 session, we wanted to make sure that participants knew that they had a space where they could continue the fascinating conversations they had started at workshops.
Accordingly, we also asked our workshop hosts to post braindate topics and lead group discussions on the Braindate platform. This gave the hosts a chance to connect deeply with both participants who had attended their session, and those who had been unable to. Participants on the other hand were able to use braindates to have a private Q&A with session hosts.
"Having worked with event planners for close to a decade, we understand that a big challenge of event design is creating a bridge between consuming event content and processing the knowledge offered in sessions, together as a community. We created Braindate as a tool planners could use to overcome this very challenge."
Results
Earlier in this piece, we had noted that a participant's desire for hallway conversations is really about wanting to meet new people, have stimulating conversations, explore the topics and themes of the event, and ultimately, experience authentic moments of connections. We're thrilled to share that Design Your 2021 managed to create exactly this kind of experience for our participants.
We got 500+ event registrations (surpassing our initial goal of 150 registrations!). Close to 50% (235) of registered attendees participated in braindates.
Out of the 130+ participants surveyed immediately after their braindate:
In their own words: feedback shared by participants and session hosts
"The opportunity to use Braindate after a workshop elevates the experience not only for the participants but also for the host. The platform made it easy for the participants of the my workshop to connect with each other and follow-up on their insights… And, it allowed participants to connect to me – the host – in order to dive deeper into certain aspects of the session, ask questions and create bonds that may lead to future."

—Myriam Hadnes, Founder, WorkshopsWork & Never Done Before Festival (workshop host)
---
"Working in the corporate world as a master of ceremonies, Design Your 2021 was a refreshing event where collaboration and generosity was so omnipresent… The informal yet structured workshops and braindates were very mind-opening, creating genuine opportunities to connect, exchange, and develop new professional relationships with like-minded peers."

—Anthony Horng, Master of Ceremonies (event participant)
---
"The opportunity to discuss the topics covered during the workshop through Braindate is a great way to connect with participants and answer their questions. In my case, I was also able to ask for feedback on the workshop which gives me new ideas to facilitate future meetings. In about 30 minutes of conversation, we can focus as much on content as on the relationship. The human connections formed during a braindate are invaluable in my job."

—Laure Cohen, Founder, Smart Coaching (workshop host)
Free resource
52 Powerful Conversation Starters
By downloading this content, you agree to receive the Braindate Monthly Newsletter to which you can unsubscribe at anytime.