How Falling Walls is Breaking Silos and Propelling Scientific Innovation on Braindate
At a glance:
Event Name: 2021 Falling Walls Science Summit & Berlin Science Week
Event type: Hybrid industry event
Event Size: 1300+ participants
Participants registered to braindate: 500+
No. of valuable connections created on Braindate: 360+
No. of Braindate topics created by participants: 100
Hours of learning facilitated by Braindate: 190
---
About Falling Walls
Since its inception, the Falling Walls Conference has become a unique global platform connecting science, business and society through a shared commitment to create science and scientific breakthrough solutions to global challenges.
Each year, twenty of the world's most forward-thinking scientists and boldest visionaries take to the stage on the 9th November to showcase their scientific breakthroughs from the broadest possible range of disciplines. The conference gathers participants from all over the world to bring down walls between borders and disciplines by sharing knowledge and building new connections.
Berlin Science Week, a Falling Walls initiative, is a 10-day international festival between 1 — 10 November bringing together the world's most innovative scientific organisations to celebrate science and to enable an open and interdisciplinary exchange of ideas and knowledge
As a global hub, the mission is to strengthen vibrant and diverse scientific networks as well as to endorse a fruitful dialogue between science and society. Berlin Science Week showcases scientific excellence, promotes discussions on the grand challenges of our time and fosters event formats that are future-thinking in science communication.
Falling Walls x Braindate: 7 years of learning and growing together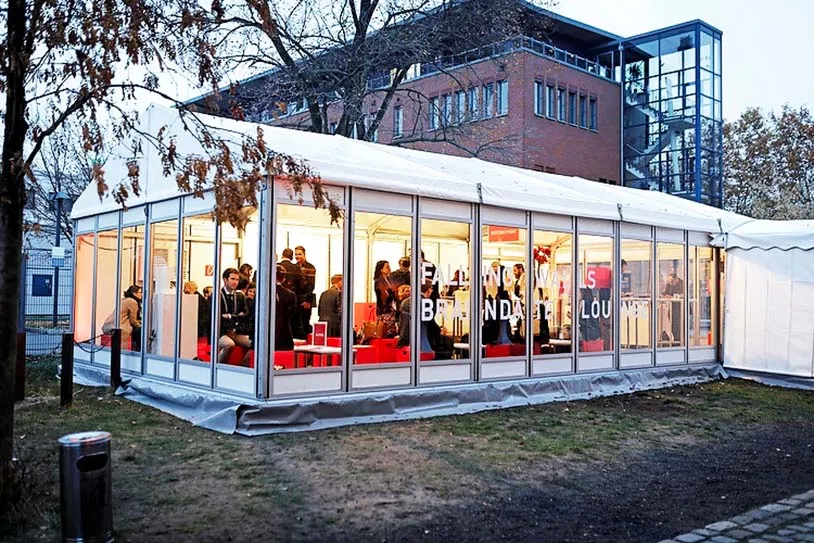 Since 2015, Falling Walls (FW) has partnered with Braindate to create a vibrant peer learning environment at their event, where every single participant has the opportunity to connect with someone new.
Through their dedication to knowledge sharing, Falling Walls has encouraged innovation at the conference. Using Braindate, they have enabled their many brilliant participants to exchange ideas across the silos of disciplines and industries.
Over the course of our partnership, Braindate has had the opportunity to learn from the organizers and action their feedback into evolving our product to better-meet the needs of the audience.
So in 2021, when Falling Walls Conference returned to host their first live event since the start of the global pandemic, they once again placed their trust in Braindate to connect their people – this time, in a totally new hybrid setting.
The challenge:
In 2021, Falling Walls returned to live events, hosting the World Science Summit and Berlin Science Week, hybrid gatherings that sought to reunite the science community internationally.
At these events, their goal was to enable exciting and meaningful conversations between the leaders from the worlds of science, business, politics and the arts.
They needed a solution that could:
Break silos between existing and new participants
Create partnerships between participants
Change the culture towards collaboration across science disciplines/industries
Get solutions to specific industry questions or science breakthroughs not covered/presented on-stage
Most importantly, they needed to achieve the objectives listed above, in a hybrid context, effectively bridging the connection gap between participants attending onsite and virtually.
The solution:
The weeks leading up to the event, Falling Walls organizers teamed up with Braindate Experience Producers to deploy communication and engagement strategies, personalized to the FW audience, to promote braindating at the event.
One such notable strategy was the ambassador launch. The organizers identified a group of ambassadors i.e. influential participants who posted Braindate topics ahead of the event, to inspire other participants to start conversations of their own.
As a result, participants hosted braindate conversations on 100+ topics as diverse as
"How will NFTs shape our life in the future?" or "Productivity techniques for academics."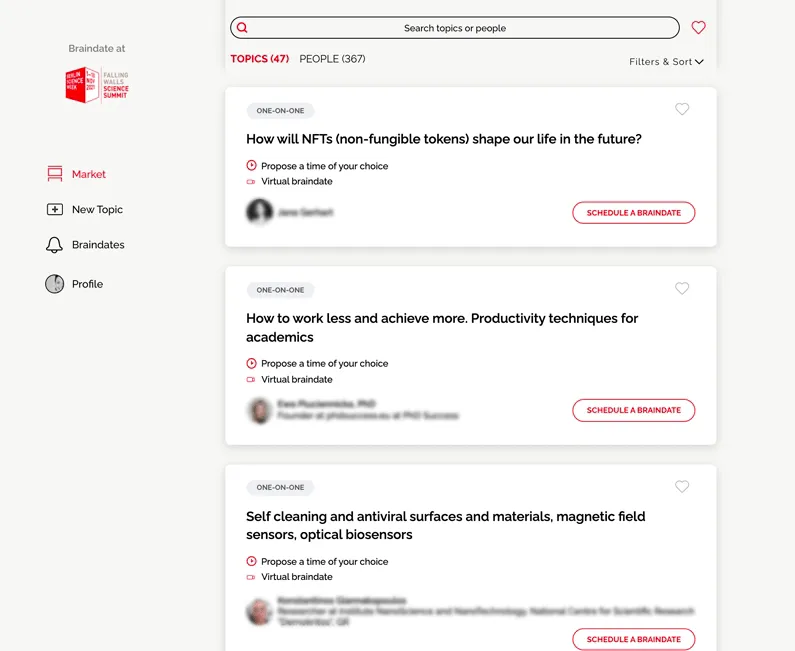 Falling Walls opted to use Braindate's hybrid solution to create an inclusive networking experience where participants (attending virtually or in-person) had the power to tap into the collective knowledge of the Falling Walls attendee community.
Onsite, they created two Braindate Lounges (spaces dedicated to braindating) where participants could meet up for their braindates. At each Lounge, learning concierges were present to welcome the participants, introduce them to their braindates, and suggest other discussions to join.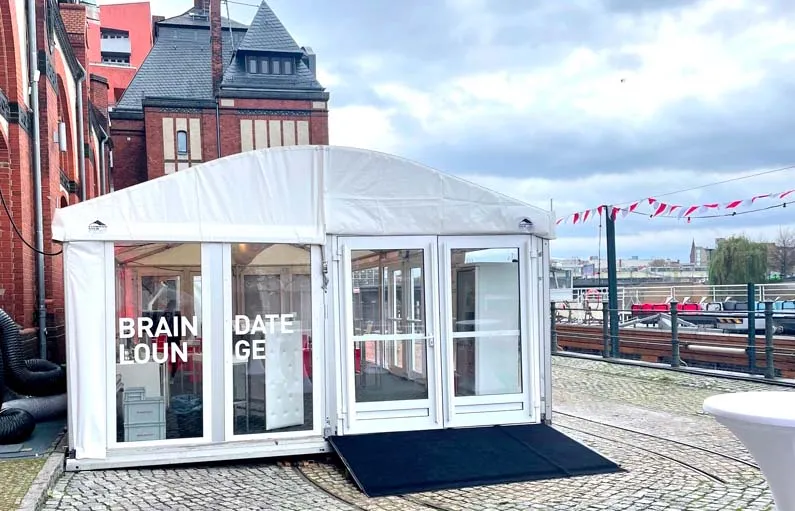 Whereas virtual-only participants could connect with each other and onsite participants for virtual braindates on the platform. Like their onsite peers, virtual participants also had access to real-time support from learning concierges, who would proactively reach out to guide them in making the best of their experience.
The Results

With 100+ topics on subjects ranging from "science communication" to "AI" to "education" the Braindate platform became a rich source of crowdsourced content that beautifully supplemented the event programming.
As seen in the topics below, participants used Braindate to share their knowledge, find solutions to their challenges, and identify potential collaborators.



Bridging the gap between live and virtual, Hybrid Braindate sparked 360+ new and valuable connections between participants.
Braindate supported participant's hunger for peer learning, generating 190 hours of knowledge-sharing conversations. What this means: on an average, every active participant on Braindate spent at least 1 hour actively engaged in conversation on a topic that mattered to them.