Braindate Organizer Space: Your One-Stop Shop for Creating Powerful Peer Learning Events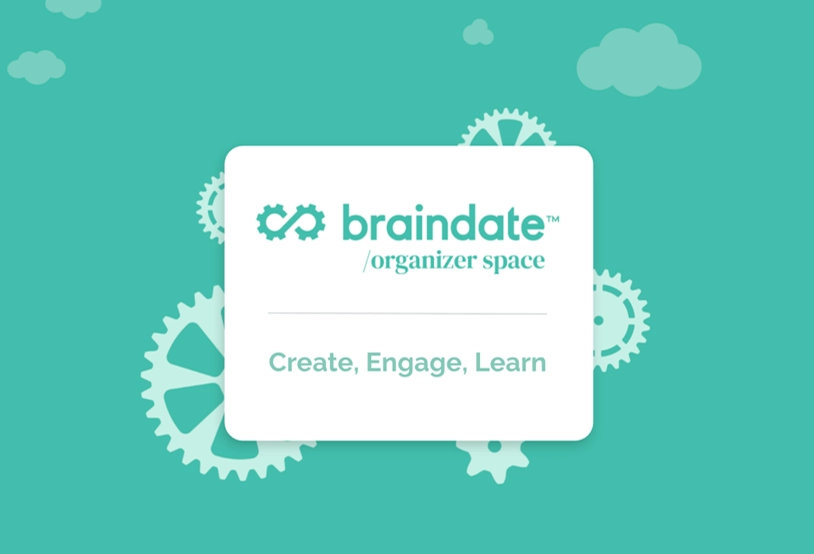 An all-in-one dashboard that makes it easy to bring Braindate and the magic of knowledge-sharing to your communities.
---
Are you planning a Braindate event? Or maybe you're considering bringing peer learning to your community using our Coached or DIY offers? We've got you covered.
From the moment you log into BOS, you enter a world where every feature is designed to optimize all aspects of hosting a peer learning experience, including:
Stay with us as we dive deeper into how BOS works and what it can do for you.
Designed to support your every need
1. Create a Braindate platform with ease and personalize it to your needs
BOS has a friendly user interface that allows you to set up your platform and manage your Braindate experience with ease. You can also personalize the look and feel of the platform by adding your brand logo and colors, and setting a braindating schedule that best suits your community.
Got questions? You're not alone. BOS comes with a chat system so you always have the support you need.
You can also enhance your experience by turning on add-ons and 3rd party integrations based on your communities needs:
2. Equipped with extra tools and resources to help you engage your people
We know that one of the biggest challenges planners face today is engaging their participants. Through BOS, you'll have access to a robust resource center where we share best practices gathered over a decade of successfully activating peer learning at events and communities. Using them, you'll be able to create a communications strategy that will get your people ready and excited to learn from each other.
The resource center comes with:
Knowledge base filled with best practices on how to activate peer learning at events;
Downloadable production checklist and timeline to deploy your Braindate experience;
Communication and promotional assets including customizable templates, graphics, and copy decks. Basically, everything you need to deploy a successful campaign to promote Braindate & knowledge sharing at your event.
Even better, the BOS performance dashboard shows you easy-to-understand, real-time data on all activity taking place on the Braindate platform.
At any given time, you'll know how many people have logged in and what actions they have taken online, how many topics are being created, invitations are being set, and the subjects your participants are most excited to discuss at the event.
You can also see which braindates are popular so you know what topics to promote or what subjects your participants want to learn more about. Armed with this knowledge, you'll know exactly when you need to take action and deploy an engagement tactic.
3. Learn from rich data analytics and plan future Braindate experiences with confidence
After your event is over, BOS will generate a post-event analytics report that offers valuable insights like, popular braindate topics, number of connections, peak engagement times, top search keywords, etc.
You'll also have access to our impact survey (pictured above) where participants share their feedback on the quality of interactions on the Braindate platform. We capture this qualitative intel and extract key takeaways including participant testimonials.
With these insights, you can plan activities throughout the year with the confidence of knowing exactly what knowledge your community is hungry to learn about.
Want to dive deeper? Take a 2-minute walkthrough with our Head of Experience Alina!
---
You might be also interested in: