How SaaStr Annual, the World's #1 Cloud Gathering, Uses Braindate to Bring Mentorship to the Global SaaS Community
Notable Stats:
Event type: In-Person Industry Event
Participants: 6500
Connections made via Braindate: 4425
Hours of learning facilitated by Braindate: 1036
About SaaStr Annual
SaaStr Annual is the world's largest SaaS community event. Every year it gathers 6500+ SaaS executives, founders, and VCs for 3-days of tactical sessions from world-known founders, leading SaaS companies, workshops, mentoring, and more — all to empower members of the global SaaS community to scale faster. This year, it will host 10,000 SaaS executives and VCs in the Bay Area on Sept 13-15, 2022.
---
Participants come to SaaStr for the best learning and connection opportunities to propel their businesses forward.
Every year, thousands of participants flock to SaaStr Annual for many reasons including but not limited to: its stellar event content, to learn from the best minds in the field, to find funding for their business ventures, and to network with peers.
Ultimately, what makes SaaStr Annual a stand-out experience is its focus on creating a true sense of community for its attendees. The organizers understand the power of gathering people and the magic that can result when people with similar needs, interests, and challenges come together.
To maintain and strengthen that feeling of community, SaaStr needs to offer as many thoughtful connection experiences as possible, so that every attendee has the opportunity to share, learn, and form relationships with their peers no matter their role, function, industry, or company size.
How SaaStr used Braindate to drive relationships and valuable mentorship opportunities for its attendees
With connection and learning at the core of its experience, SaaStr has collaborated with Braindate since 2018 to bring unique experiences that go beyond traditional networking.
In 2021, SaaStr Annual was the largest in-person event held in the Bay Area, and it used the Braindate platform to enable focused, topic-based networking, offer mentorship conversations, and have venture capitalist (VC) office hours, at a time when the focus on networking has never been more front & center.
Topic-based networking results in more relevant connections
The Braindate platform allowed attendees to post specific topics and connect with others based on their current interests, funding stage or challenges. Via Braindate, attendees were able to find the exact people they wanted to meet and have the exact conversations they wanted to have when they registered for the event.
Participants embraced this opportunity with enthusiasm, posting over 450 topics on subjects as varied as: "5 tactics for digital accessibility" to "Run better board meetings: a VC hierarchy of needs."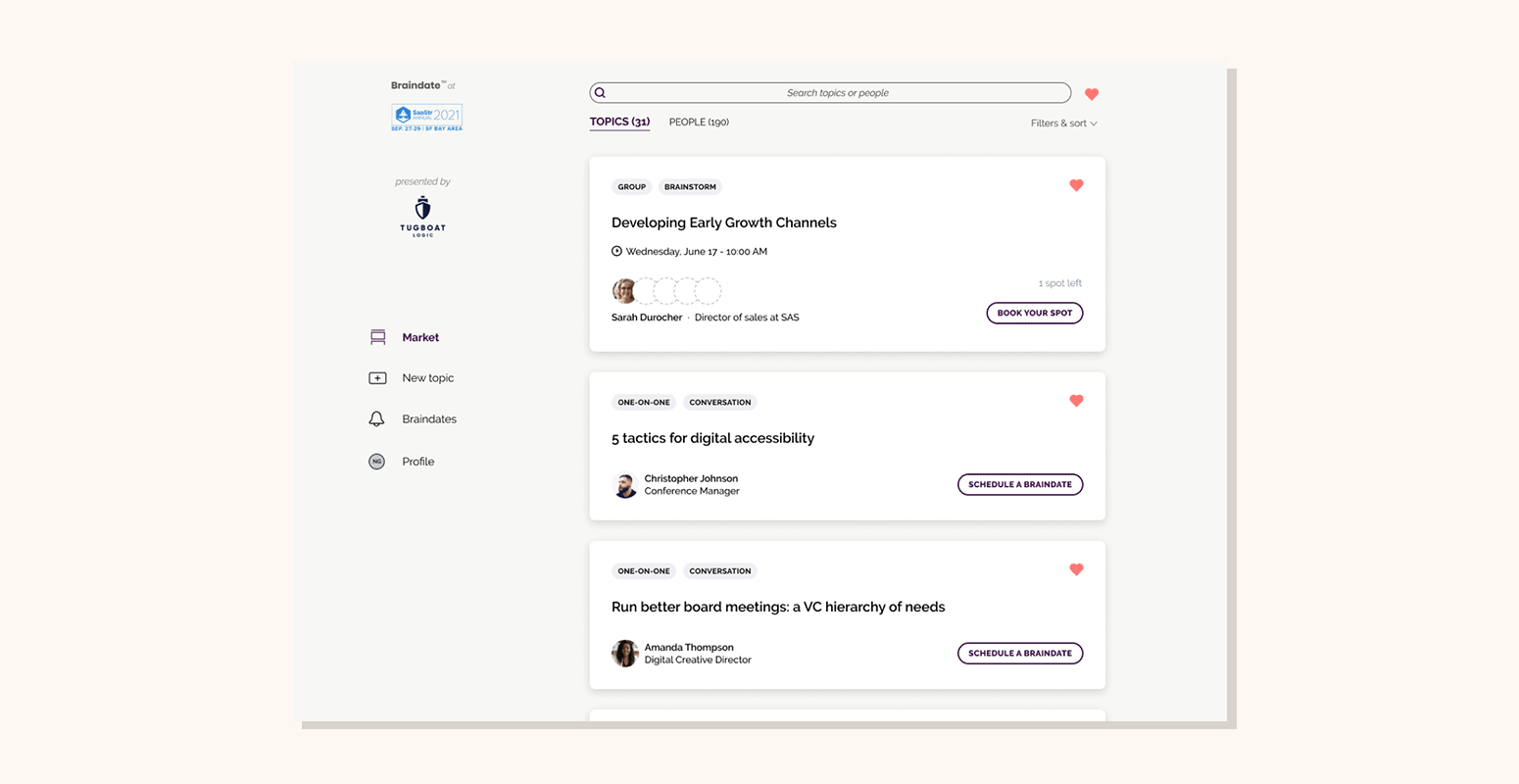 SaaStr scales its mentoring program with Super Braindates
Mentorship is one of the core elements of SaaStr Annual, In 2021 SaaStr was able to scale mentorship opportunities offered at the event by hosting them via the Braindate platform.
SaaStr mentors, a hand-picked group of VIP CEOs, used the group braindate conversation format to host mentoring sessions. These CEOs led discussions on topics of expertise that event participants could join. Each group was limited to 20 participants, making the mentors' knowledge accessible to as many participants as possible, while still keeping the nature of the conversation relatively intimate.
SaaStr facilitates investor-investee connections via VC Office Hours braindates
A key motivation for many participants attending SaaStr is to either learn the best ways to grow their business and/or connect with the people who can help them do so i.e. venture capitalists.
To serve this need, SaaStr used Braindate to connect participants with a pre-vetted group of VCs. These braindates or VC Office Hours provided an intimate setting where participants could benefit from a VC's knowledge and advice in a more casual and friendly setting.
The Results of using Braindate at SaaStr Annual 2021
Having been familiar with Braindate over the years, the SaaStr community excitedly jumped back into braindating at the first in-person SaaStr event since 2019.