How MPI Used Braindate to Facilitate Conversations for Change at TalkFest [video]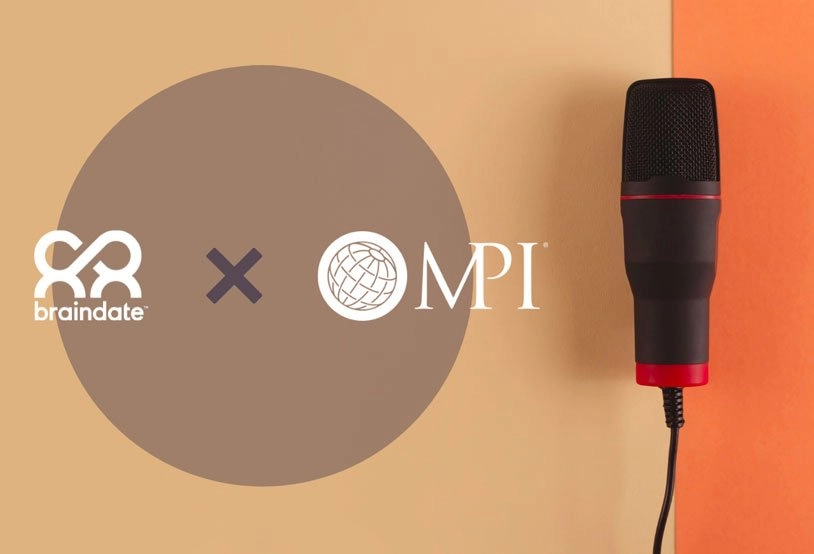 How Meeting Professionals International (MPI) generated close to 900 valuable connections at a 400 person event.
---
Meeting Professionals International (MPI) is the association for people who bring people together. MPI understands that when people meet face-to-face, it empowers them to stand shoulder-to-shoulder. That's why they lead the world in professional development that advances the meeting and event industry—and the careers of the people in it.
In February 2021, MPI teamed up with Braindate to help their community connect, network. and learn from each other's experiences at MPI's first ever TalkFEST digital experience.
The event was a big success! So, my colleague Vuk Milinkovic (Braindate Experience Producer) and I invited Jesse States (Director, MPI Academy) and Janice Cardinale (Founder, Cardinale Creative + Braindate Super User) to share the story of their experience collaborating with Braindate, and participating in braindates respectively.
Notable Stats:
Event type: Association event
Event format: Keynote session followed up by braindates on the subject of the event theme
Participants: 400
Active participants who booked at least one braindate: 212 (50%)
Connections: 870
Hours of learning: 315 i.e. every active participant spent at least 1.4 hours learning from each other
You can watch the full conversation here or listen to the conversation here.
MPI's challenge at Talkfest:
To create a fun, safe, and comfortable environment where MPI community members could gather and form make real connections
Quote from Jessie States, event organizer:
We've done a really great job at MPI with our other digital experiences, but they really are more broadcast experiences. There are a series of keynotes and groups of panels that share knowledge with our community and engage with each other using chat functionality, but that's more of a broadcast event, It's not helping people to connect face to face and make real life world connections with each other.
"Relationships that last don't necessarily start in a chat. Where they start is with people connecting on a real level, on topics they are interested in, sharing ideas with each other. MPI was in search of a platform that could help us accomplish that singular goal. Braindate was the right solution."

— Jessie States, Director, MPI Academy
Braindate had all the elements necessary for us to create that kind of engagement and to curate those types of conversations among like minded individuals.
Post-event survey on Braindate's impact revealed that…
A majority of MPI Talkfest participants (82%) had an empowering learning experience on the Braindate platform. As a result, many of them experienced a greater sense of satisfaction with the event and left with at least once valuable connection.
The solution i.e. what the braindating experience at MPI Talkfest looked like:
Quote from Janice Cardinale, Braindate participant:
I found that virtually, Braindate was one of the best things I had participated in, in terms of this last year and a half. Braindate felt organic and authentic.
My strategy going into braindates was to speak about topics that were meaningful to me… subjects that I'm very interested in and am even writing about. My braindate topics gathered quite a few people, who started to follow me, and became LinkedIn friends.
"I met people from all over the world, from Germany, Ireland, the United States. I keep in touch with them and they stay in touch with me. That's the beauty. I believe that Braindate creates a community of thought leaders."

— Janice Cardinale, Founder, Cardinale Creative
Braindate is also less intimidating because you could go to a conference and not necessarily meet the number of people I met that day virtually using Braindate. I also never have 45 minutes to talk to each individual. So with the 45 mins I did have with Braindate, I found that the time was very well used. It was the perfect duration of time to really get into subject matter. I would strongly suggest Braindate to anyone who was doing a conference or a meeting. I think it's brilliant.
What MPI's collaboration with Braindate looked like:
Quote from Jessie States, event organizer:
It was critical for us to have an experience where we could rely heavily on the experts. We're not experts on the Braindate platform, the environment, in creating these types of digital conversations, what works and what doesn't.
"It was really nice to have all the support we needed, from communicating how to access the platform, to what kind of language works best, and when we should send out emails. Having that production partner throughout the planning process was really critical to the success of the event."

— Jessie States, Director, MPI Academy
Quote from Vuk Milinkovic, experience producer for MPI:
We have a lot of different client personas. Sometimes the role of an Experience Producer is to be really hands-on, and sometimes it's to guide. In this instance it was more guidance than anything else because Jessie and her team were great at utilizing our best practices, to think outside the box with us. She took on the important role of really communicating the value of the experience with her participants.
MPI's vision for the future:
"What's exciting is that Braindate brings something to the table that didn't really exist for us before, which was an opportunity to help people engage in a different way. So we're excited about the opportunities this brings to us from an association perspective."

— Jessie States, Director, MPI Academy
Quote from Jessie States, event organizer:
We have different communities who are searching for ways to come together, and Braindate gives us different ways in which we can help them engage with each other. Particularly because not all of them have the ability to travel to each other. We want to make sure that we are being inclusive of everyone, that includes the fact that not everyone can travel, not everyone has the money to travel or that they have families to take care of. That precludes a large group of our community who can't come together at our live events.
So how do we enable them to get the same types of connections that in-person attendees can experience? So we're curious and excited to have conversations on how we can use Braindate to enable that.
Hot topics at MPI Talkfest:
Post-event, the Braindate data analytics dashboard (Braindate Organizer Space) gave us key insights on what participants at MPI Talkfest were most excited to talk about—insights that MPI event organizers will keep in mind, as they plan and curate future programming for their communities.
To give you an idea of these insights looked like, here are topics that were among the most popular among MPI Talkfest braindates:
What are you doing to keep your members engaged at virtual events?

How to stay informed, connected & encouraged during these challenging times: Develop your plan!

Let's talk about exhibits and hybrid events in 2021 and beyond!

Has design caught up to technology?