Virtual Hospitality: How to Be More Human in a World Full of Bots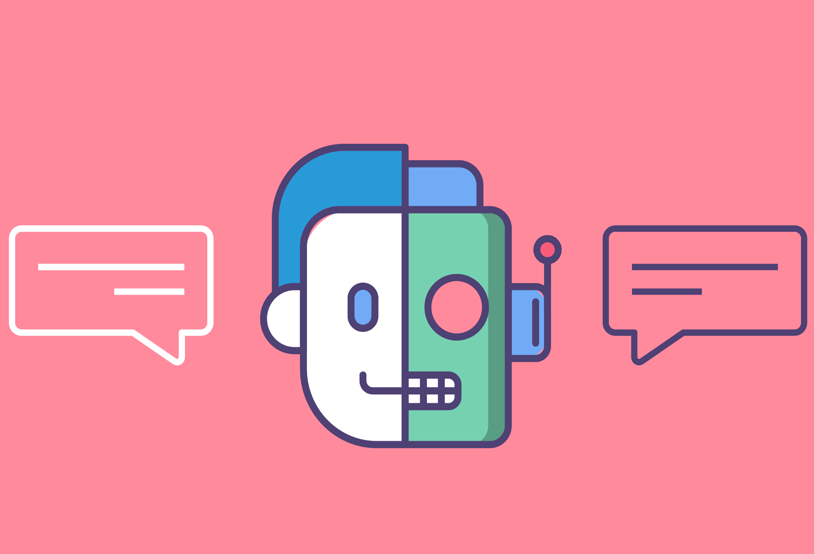 A Braindate Learning Concierge shares tips on how you can create a warm and welcoming hosting experience at your next virtual event.
---
The role of a Braindate (Virtual) Learning Concierge is unique and multifaceted. It's a hybrid position that is tailored to the demands of today's increasingly virtual landscape.
So I completely understand why the following interaction has happened more than once during my relatively short tenure.
Picture this: I'll be facilitating an online Braindate event. Someone will reach out to me with a question via our live chat. Yay! Interacting with people going on braindates is my favorite part of the job.
Maybe I've accidentally been too formal—dialed back my penchant for exclamation marks and emojis, say. Or in my enthusiasm, I've answered someone too quickly, if such a thing is possible. #humblebrag. Whatever the case may be, the person on the other end of the chat is convinced that I'm a robot. Or a "bot," which sounds less cool, but I digress.
To be fair, AI has gotten pretty sophisticated lately. But after a little back-and-forth to prove my humanness (an errant typo usually does the trick), these interactions often create a small, memorable moment for both the participant and me. On a basic level, I've surprised them: an actual person is looking after them, not an automated bot. In the process, we've often organically learned something about each other.
I covet these human moments, and creating them is an important part of my job as a Learning Concierge.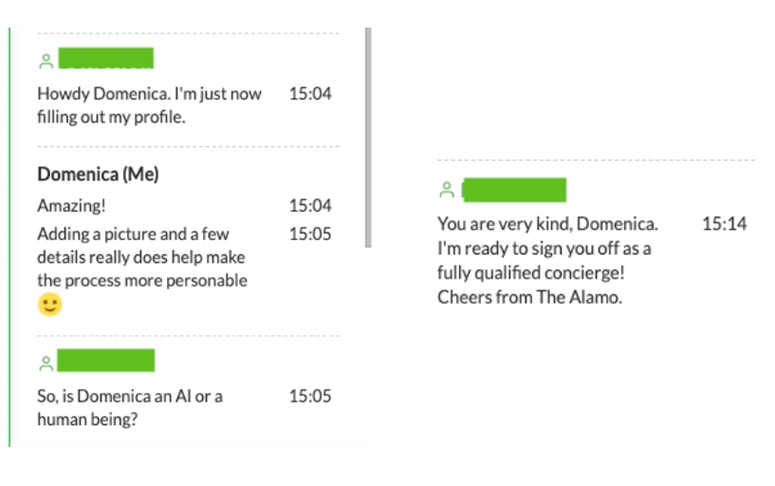 What is a Learning Concierge?
Okay, so we've established that I'm human. What does a Learning Concierge do?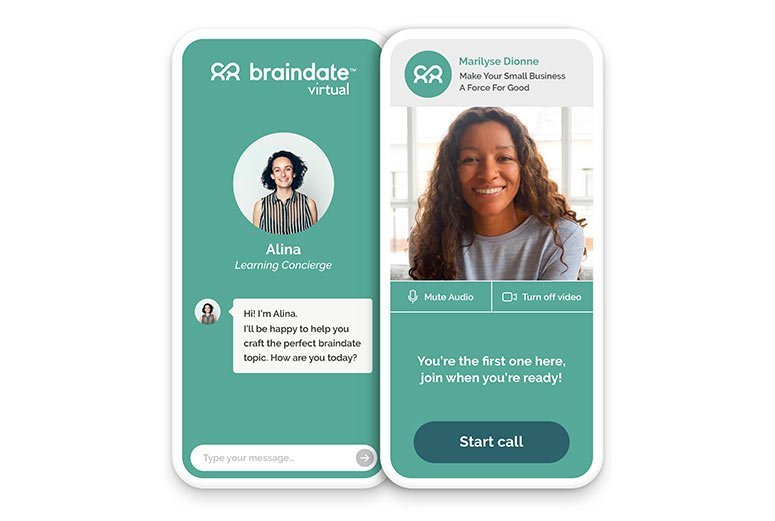 Learning Concierges are professional hosts and peer learning facilitators. This means that we provide a warm welcome, proactive guidance, and support to our participants as they navigate Braindate. Since the core of a Braindate experience is about learning and knowledge-sharing, this also means that Learning Concierges might spend time helping participants to outline their learning goals so that they can leverage braindates to propel these goals and projects forward.
I believe that there is no connection as memorable as the one made when you learn something with someone. Note the wording—not from someone, but with them. As a Learning Concierge, I make sure that these magical "ah-ha!" moments happen as seamlessly as possible.
Sometimes support looks like troubleshooting tech issues in real-time. I also guide people in their quest to do things like set learning goals, and craft the perfectly-worded braindate topic. Perhaps most importantly, I try to empower people with the understanding that their knowledge is worth sharing and their perspective is valuable.
"I believe that there is no connection as memorable as the one made when you learn something with someone. Note the wording—not from someone, but with them. As a Learning Concierge, I make sure that these magical "ah-ha!" moments happen as seamlessly as possible."
This brings me to my second favorite part of being a Learning Concierge: embodying a culture of learning which allows me to learn from others every single day. And the learning is multidirectional.
Whether I'm teaching an English course in a college classroom or offering a webinar on Braindate to our clients, I aim for a "guide on the side" rather than a "sage on the stage" approach to learning.
I soak up as much from my peers at e180 as I do from our participants, and then use this information to make our organization—and the Braindate experience—as awesome as it can be.
Human Hospitality
I've always felt comfortable with the "learning" part of my job title, given my experience as a teacher. But the "concierge" bit is just as important.
To use an analogy (English teachers love analogies!), being a Learning Concierge is like hosting a party: circulating and talking to guests, making introductions, and ensuring the logistics of the event are running so smoothly that no one notices the punch bowl being refilled.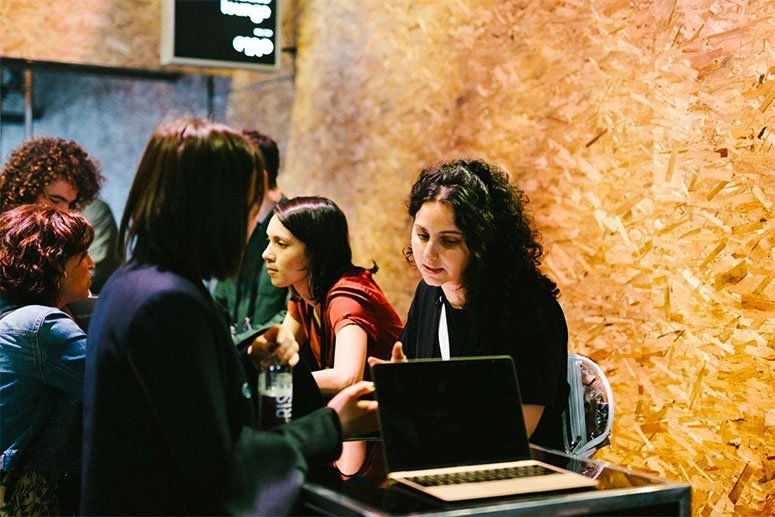 But how exactly does hospitality translate in virtual spaces?
Virtual Hospitality: Tips and Tricks
The event industry is in a time of major flux. Many of us thrive around other people, so our new remote reality can feel particularly challenging. But behind our Slack channels and Zoom calls and emails chains, we're still people who want to learn, grow, and connect.
We may be in separate boats, so to speak, but we're collectively enduring the same weather conditions. So from my boat to yours, I've gathered some insights on how I've been making the online hospitality experience and bit more personable.
No matter the industry you work in, here are some tips from your friendly, neighborhood Learning Concierge that will help you translate your hospitality focus to online spaces and create a sense of digital community. Alternatively, Here's How to Pass as a Human and Not a Robot:
1. Be proactive
Usually, when the Virtual Braindate platform is live and braindates are happening, I will be online ready to help. But that doesn't mean that I'm simply a passive bystander. To be participant-facing, even virtually, means that I want my presence to be felt.
If I were hosting an in-person event, I'd be greeting people with a smile, directing traffic, approaching individuals who look slightly confused, and generally expressing interest, curiosity, and excitement. Yet it's hard to read a room in quite the same way these days.
To bridge that gap, I try to be proactive and reach out to participants first, when possible. Experiencing a "problem" doesn't necessarily need to be the inciting incident for connecting, especially when you're focusing on virtual hospitality.
Whether you make a quick introduction, ask a curious and open-ended question, comment on an individual's actions on the platform (such as how they've posted a stellar braindate topic), or share a quick tip to make their experience better, don't be the type of host who hangs out quietly in the corner of the room.
But I try not to be too intrusive or insistent, either. It's all about balance.
2. Let your 'human' show
One thing I appreciated and internalized from my time working for Apple is their "I don't know, let's find out together" model of support and learning—both internally and for customer-facing interactions.
What I find refreshing about this model is that it draws attention to the fact people don't always have all the answers, and that's okay. It also emphasizes learning as a process that can be cultivated together as a shared experience.
Robots might be programmed to have all the answers, but as humans helping humans, I like to be transparent about my knowledge and my problem-solving process.
A bonus? Humans can do their research! I love visiting a participant's Braindate profile and finding out a little bit about them to find some common ground and start more meaningful conversations.
3. Hospitality means personality
I've found that being proactive with participants isn't exactly valuable if they still think you're a bot. That's why I'd encourage you to remain professional while also making it more personal by embracing your personality and distinct voice.
If I come off as too canned and formal when I reach out, 9 out of 10 times I won't get a response, as people assume they've received some sort of animated chat message.
If I allow myself to "sound" more like me, as I've hopefully done throughout this piece, my engagement rate is way higher and I'm more likely to have a thoughtful interaction that is mutually beneficial.
People crave authenticity. If you use emojis, use idiosyncratic grammar, have a distinct turn of phrase, or want to share something relevant about yourself, you're fostering a more human connection.
4. Capture participant feedback
As a Learning Concierge, I aim to make sure participants know they are not navigating the platform alone, or merely shouting into the void whenever they need help.
But even providing a thoughtful, warm, and elevated virtual hospitality experience won't have a lasting impact if you don't have a reliable process in place for capturing and analyzing participant feedback.
Whether you're using a spreadsheet, dedicated Slack channel, or some other more sophisticated internal tool, you need to track and measure the insights that people are generous enough to offer.
Then you can grow, change, adapt, and tailor your work in a way no bot ever could.
Centring Humanness
I still get people that think I'm a bot from time to time, even as I learn to finesse my interactions and leverage the tips I've outlined above. It can't be helped.
But I love that moment of surprise when I address someone by their name, comment on a fascinating bit of information in their profile, or share a bit about myself. A few of these interactions have led to fascinating chats about the band Wilco, teaching high school math, the weather in Texas, and startup culture in Mexico.
Humans are social animals. And whether an interaction begins through a handshake or a chatbox, we will always find new ways of fostering a sense of community together.
Planning a virtual event? Here are other resources to inspire you: