Virtual Networking Event Ideas Your People Will Actually Love
We share 12 new, tried-and-tested ideas for virtual networking at business events, community gatherings, and companies (and we promise, "virtual cocktail hour " is not one of them 😉).
---
At the time of writing this article, if you searched "virtual networking event ideas" on Google, you would've gotten upwards of 35 million results. The sheer volume of content shows us that there's a real gap between the experience currently being offered and what people actually want.
People need and want to network because it's an essential step towards getting your dream job, growing your business, finding that one person who can help you crack an unsolvable problem, or simply finding your tribe.
Also noticeable, the first 10 search results make the same promise (I know, I know, I'm making it too): here are X number of ideas to improve virtual networking, to make it fun, to make it not suck! The reason why all of us content marketers are hitting the same note is that we've identified the same pain point. We are all desperately trying to find ways to make virtual networking events a worthwhile time investment for our stakeholders.
As it's done at the moment, virtual networking is not a particularly enjoyable experience. Why? Because it takes the awkwardness of in-person networking and amplifies it. In a virtual setting, you can't rely on body language or the support of an open bar. Further, on-screen, human interactions often end up feeling less… human. It rarely yields real results aka valuable connections and satisfying conversations.
As a company that's been facilitating memorable discussions and sparking valuable connections for a decade at in-person and virtual events, we know that the key to successful networking is not to put people in a room (be it a conference hall or a chatroom) and hope for the best.

It's to create conditions for people to connect over conversations that reflect their current objectives or challenges, and allow them to connect with others on a deeper level.
That is why we don't feel hopeless about adding yet another piece of content to the 35 million+ search results on this topic! We have real guidance to offer that we are certain will help you change the game and create experiences that your people will thank you for.
And if you keep reading, we promise you, we won't waste your time with ideas on organizing a virtual wine tasting or a scavenger hunt (not that we don't enjoy those activities…). We simply believe that if you're reading this, you might just be looking for something different.
Virtual event networking statistics you should know
Before you begin planning your next networking experience, it's good to be aware of what people actually want when it comes to networking. This is where statistics come in handy.
In this section, we'll share a few key stats that provide helpful insights into the benefits of networking, what people are looking for, and the most common challenges they're currently facing.
The benefits of a virtual networking event:
85% of jobs are filled via networking with personal and professional connections.
49% of employees report that one of the major benefits of online networking is "easier accessibility."
40% of professionals say they network more online than in person.
(source: Zippia)
As these statistics confirm that individuals network primarily to support their personal and professional growth. That includes finding a new job, growing their business, learning and exchanging ideas to upskill, etc. This correlates nicely with the statistics that report that the majority of company positions are filled via networking.
Given the numbers we're working with, virtual networking events fulfill a real need and more importantly make potentially life-changing conversations and opportunities much more accessible and inclusive.
Common challenges with virtual networking events:
95% of professionals agree that face-to-face connections are key for successful long-term business relationships.
55% of all communication relies on body language.
40% of virtual event attendees report that people are less likely to enter into conversations neutrally or by approaching others.
72% of attendees are more focused on learning, and less on networking at virtual events.
These statistics confirm that the biggest challenge to virtual networking is facilitating interactions that feel human and organic. As a result, many people prefer face-to-face communication and even believe it to be vital for their business. This belief is reinforced by the state of virtual networking events, where participants don't feel supported in their efforts to find valuable connections and prefer to spend time learning as opposed to learning and networking with their peers.
The good thing is that challenges are made to be surmounted.
Virtual networking doesn't work when organizers try to replicate in-person networking activities in online settings. Case and point: the proliferation of virtual happy hours, scavenger hunts, online escape rooms, etc.

While these activities are fun, they're not creating an environment where participants can actually get what they want out of a networking event, that is, the opportunity to connect with the right people and have the right conversations to level up personally and professionally.
The challenge we have before us is to balance the fun elements with the more practical needs of the participants. In the following section, we'll break down the essential first step you need to take to make your networking events more fun, interesting, and productive use of your participants' time.
How to make virtual networking events more fun and value-driven for participants
Before we jump in, a quick note on the word: "fun."
Before you start thinking of a list of fun activities, remember that "fun" takes on different forms in different settings. As we mentioned in the previous section, the goal of a networking event is to support your people in making the connections they need to grow personally and professionally. It's not to simply have a good time. In fact, the "good time" needs to result in the participant meeting their goal, or it might lead to decreased participant satisfaction.
Also, remember that "fun" can mean something different for different types of people. For an extrovert, the opportunity to mingle in a room full of people can be thrilling. For an introvert, the same context can feel like a nightmare.
To make a networking event fun or interesting, you first need to understand who your audience is. What are their specific objectives? What kind of connections are they seeking to make? Do they want to find potential business partners? Do they want to learn from their peers? Do they want to exchange stories with like-minded people?

And then, find out what having fun means to them. Is it connecting over a shared activity? Or is it as simple as just having a good conversation?
You can do the above by using pre-event surveys. You can also poll your community on whatever platform they live in. Another option is to set up interviews with community leaders who can represent your audience's interests. Once you have the insights you need, you can begin designing the experience.
How to elevate your virtual networking from a feature to an experience
In a virtual context, many event planners make the mistake of approaching the networking part of their event as a feature, not as an experience. Participants are left to their own devices (literally), and little support is given in terms of guiding the participant on how to best use the networking feature on the event app to make the right connections and have the most relevant conversations.
Approaching networking at your virtual event as an "experience" means thoughtfully designing the participant journey from start to finish.
Tips to elevate networking from a feature to an experience:
Teaching participants how to use the networking solution in your virtual event app;
Supporting participants in making the right connections via AI or manual matchmaking;
Guiding participants on how to have meaningful conversations by sharing ice-breakers, conversation, and facilitation tips;
Designing your event program to include substantial networking breaks;
Designing the networking sessions in a way that all participants (introverts and extroverts) can find success and participate in a way that feels most comfortable for them;
Hiring facilitators or MCs to moderate group networking sessions;
Training your customer success team to give live support to your participants;
Inserting shared moments of joy in a virtual networking session;
Giving participants guidance on how to remain in touch with their new connections.
Scale-up with virtual networking platforms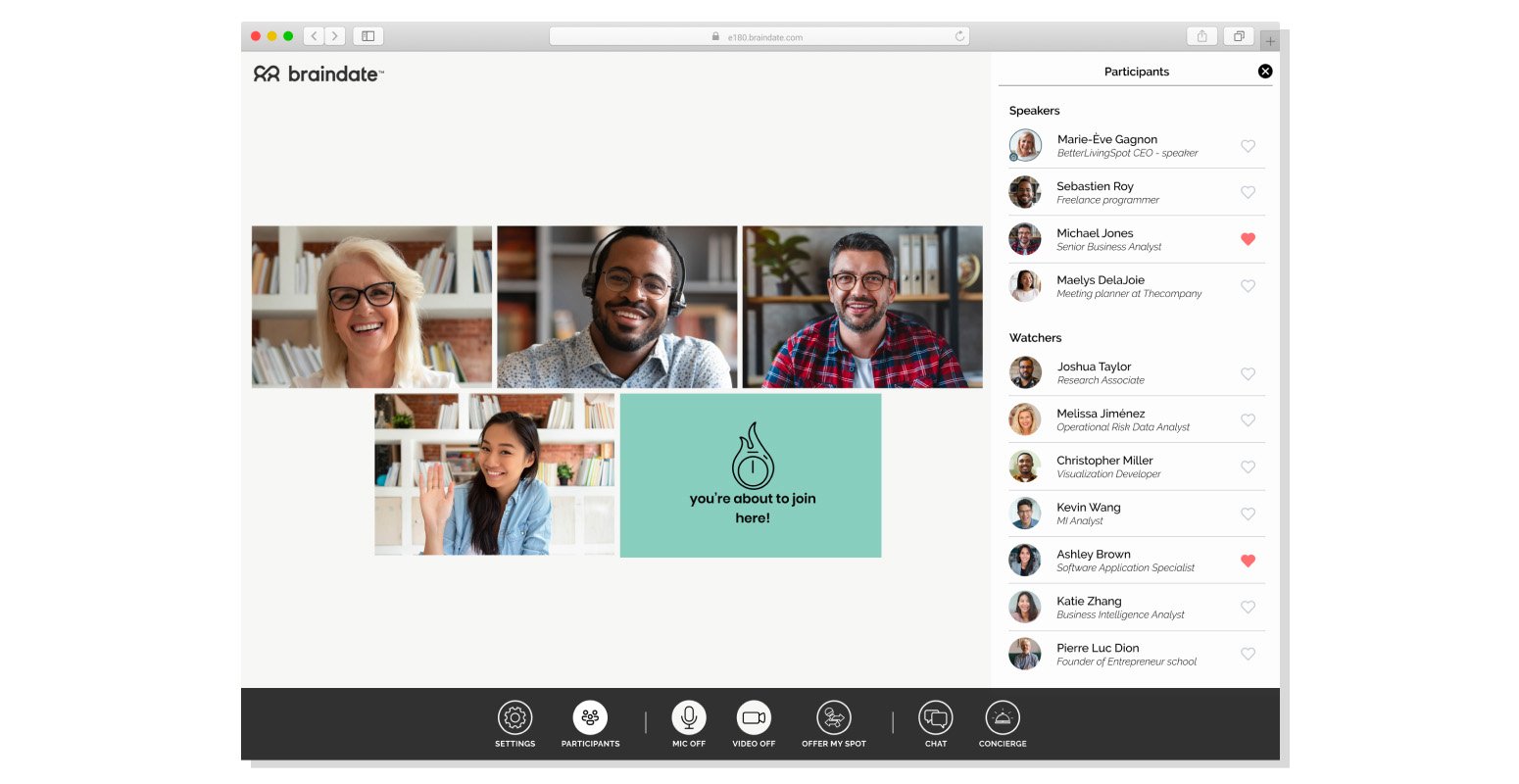 Since 2020, there has been an explosion in virtual event networking apps, as event technology providers have risen to the challenge of creating connection opportunities at virtual events. This is great for the event organizer as they now have a myriad of options to choose from. Whether it's different features or competitive pricing, you can now add a networking tool to your event that perfectly meets your audience's needs.
Event networking technology can help you massively scale up your networking efforts to include as many people as possible. In a virtual setting, you can now host a networking event where thousands of people can connect with each other and have conversations at the same time.
However, each event networking platform comes with its own set of features, including one or two that set it apart from others. With so many options available, it's not unusual to experience decision paralysis.
To help make the choice easier, we have compiled a list of features that your chosen networking solution must absolutely have to meet the most basic expectations of your participants.
5 must-have features in virtual networking platforms:
High-quality video
Chatroom function
Event booking and calendar system
Networking optimization features
Participant profiles
For more information on each of these features, check out our Complete Guide to Virtual Networking in 2022.
Virtual Networking Event Ideas for Events
One of the big motivators of event attendance is networking. Unfortunately, networking experiences often fall short of expectations at both virtual and in-person events.
In virtual settings, we rely on features to connect people that aren't built to facilitate meaningful conversations like speed networking. In-person, we force people to connect during cocktail hours, an outdated style of networking that excludes anyone who isn't highly extroverted, or anyone who doesn't consume alcohol. We can do better and we owe it to our people to provide them with more thoughtfully designed experiences. Here are some of them:
Connect participants based on event content
Your event content should not be an end within itself but a jumping-off point for starting conversations. Follow keynote speeches and event sessions with facilitated group and 1:1 conversations where event attendees can dive deeper into the subjects discussed by your speakers. This will increase engagement with your event content and fight against the forgetting curve, helping your people better retain the information provided at the event.
Introvert meetups
One of the most consistently popular braindate topics across events is one that invites introverts to connect. Many people don't feel comfortable in social situations where they don't know people. Introverted or not, it's challenging to walk up to a stranger and start a conversation. Introvert meetups attract high participation because they create a safe and friendly environment where people who are more introverted can meet others like them, and interact with each other with relative ease.
Connect birds of a feather
Your event participants want to network with people who share their interests and challenges. Help them meet such people by hosting interest-based meetups. Don't limit these groups to professional interests like "marketing." Help your people connect beyond their job descriptions on a more personal level. Like why not host a networking session for lovers of yoga and meditation? Or maybe a networking session where people discuss their favorite creative practice?
Connect your speakers with participants
We know from experience that speakers love to connect with participants just as much as participants love to connect with them. For speakers, meeting attendees is a great opportunity to gather feedback. It's also a chance to dive into subjects they were not able to discuss during their presentation. This is also fruitful for any sponsors at your event who have been invited to lead a session. It's an opportunity for them to nurture and convert potential business leads, and they will thank you for facilitating more meaningful exchanges with your attendees.
Virtual Networking Event Ideas for Companies
Internal networking can make or break a company's culture. They can help people connect, collaborate across silos, innovate, and feel a sense of belonging to the company and its mission. This is why some of the biggest companies in the world invest in hosting internal networking events.
No matter the size of the company, it's easy for employees to become siloed in their departments, especially in a remote or hybrid work setting. It's absolutely key for employee morale, mental health, productivity, and retention to support your people in networking with each other. But don't make the mistake of limiting your networking to the occasional happy hour. Create experiences that feel inclusive to all the personality types working in your organization. Go beyond the team bonding activities, to encourage your employees to come together, across departments, and connect with each other over their challenges and interests, both personal and professional. Here are some ideas to get you started:
Get to know me sessions
Encourage your employees from C-suite to interns to host "get to know me" sessions where they can connect with colleagues as humans (not just their job titles). During this time, your employees can participate in group discussions where they connect over topics like "what's sparking joy for you these days?" or "what's a book that changed your life?" etc.
Organize company-wide brainstorms
Is your product department thinking of developing a new feature? Why not host a company-wide brainstorm to crowdsource solutions from employees across departments? This kind of session will not only generate out-of-the-box ideas but also allow for more organic moments of cross-company collaboration.
Help me solve / expert sessions
We all have unique experiences to share. And whether or not we feel this, we have the ability to help others by sharing our expertise or knowledge. Whether it's related to their direct job title (your social media specialist could share knowledge of writing great captions!) or their personal life (maybe your head of accounting is a stellar cook!) encourage your employees to show off their superpowers. This will again lead to unexpected connections and even reveal to you the full extent of knowledge and skills held by your awesome team.
Mentoring hours
This is a popular one! Create a culture where your people can support each other in their growth. Host mentoring networking sessions where members of your executive and management teams can share their career journeys, give advice and develop relationships with the next generation of leaders within your company.
Virtual Networking Event Ideas for Communities
People join a community because they want to connect with people who are either similar to them or are facing similar challenges. In doing so, they are seeking support and camaraderie. This is why networking is absolutely essential to help your members connect and by doing so, strengthen your community.
Here are ideas for virtual networking activities you can host to engage your members and facilitate meaningful conversations in your community:
Ask Me Anything Sessions
A big challenge that community managers face is onboarding new members. This includes training new members on maximizing the community platform, educating them on resources offered within the community, connecting them with other members, and finding out what kinds of activities they expect from the community. As a community manager, you can make this process easier by encouraging leaders within your community to host regular Ask Me Anything sessions about making the best of one's experience within the community.
Product launches
Some of the largest communities in the world are centered around products. Whether you're a SaaS company like Tableau or a makeup company like Glossier, your product community is the lifeblood of your brand. Engage your members and keep them updated on the latest product developments/services by hosting community-wide product launches. These sessions can be led by your product teams, where they introduce the latest products and take the opportunity to gather real-time feedback from your community.
Expert talks
Successful communities are those that highlight and celebrate the strengths of their members. Many community managers invite external experts to lead talks for their members. We're encouraging you to instead tap into the experts already existing within your community. Hold recurring gatherings where you give different members of your community the opportunity to lead their own expert talks. Follow these up with a networking hour where folks can connect with each other and continue the conversations started in the talk.
Storytelling Hours
Many people join virtual communities because they're seeking support, whether it's looking for advice or simply being in a space where others can relate to their experiences. To help your members create real bonds with each other, you need to take interactions happening in the comments section and turn them into virtual meetups. Assign a theme to your meetups, so it's easier for your members to start conversations with each other. A storytelling hour is a great way to get things going and help your people get to know each other on a deeper level.
Final takeaways: 5 quick virtual networking event tips for success
To wrap things up, here are 5 quick tips to help you design a successful virtual networking event:
Find out what your people want to learn or talk about.
Do the work of connecting people before events by organizing meetups based on shared interests, using a platform like Braindate, and using AI technology to suggest connections.
Design the experience – don't rely on the feature.
Hire facilitators or moderators who can help engage everyone in the group.
Provide guidance on how participants can keep the connection alive after the event.
Looking for more in-depth guidance on how to organize memorable networking events online? Check out our guide.
Free Checklist
Ideas to Make Networking Easy and Fun
By downloading this content, you agree to receive the Braindate Monthly Newsletter to which you can unsubscribe at anytime.