What is Peer Learning and Why it's at the Core of Everything We Do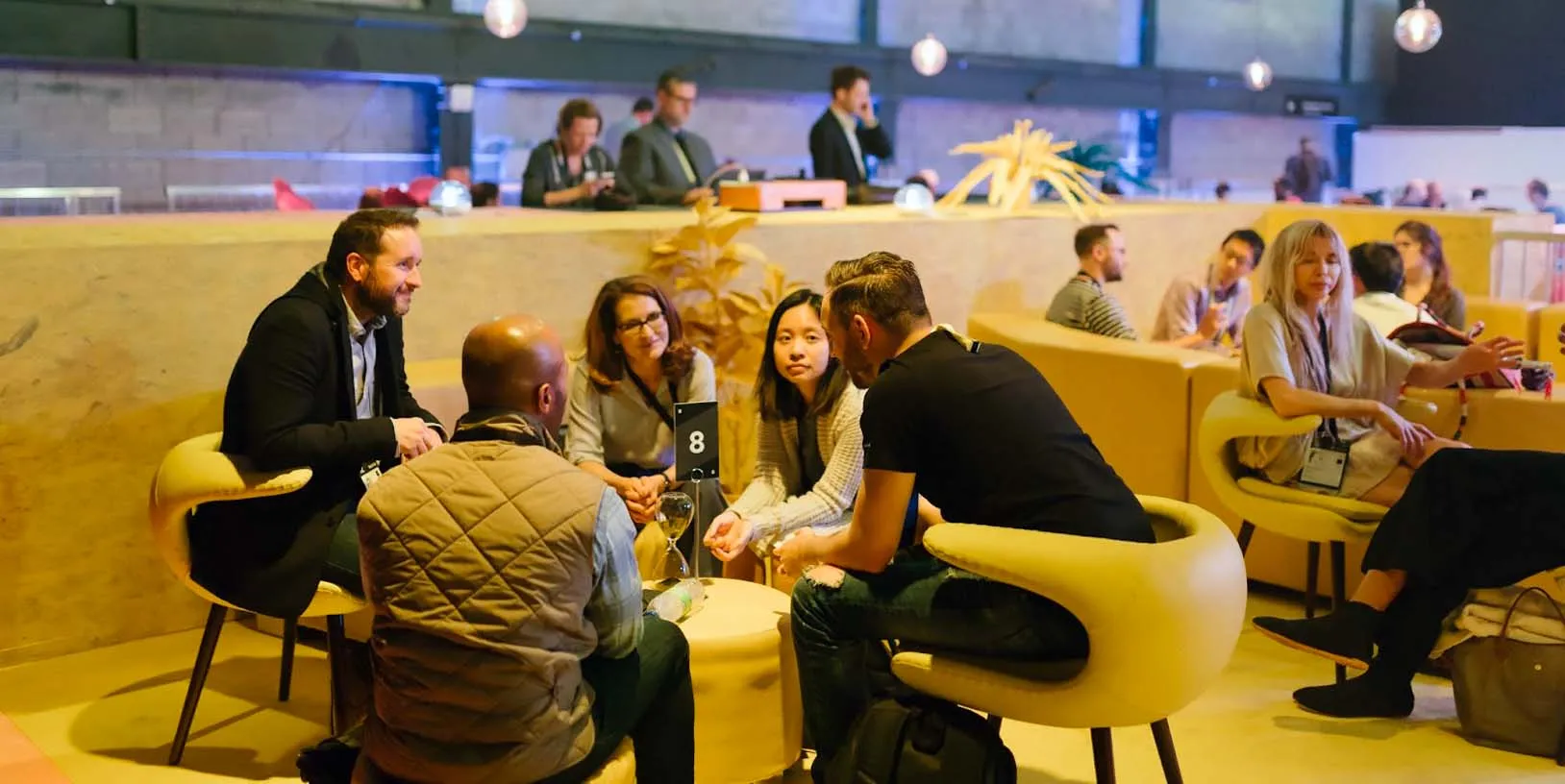 At Braindate we believe that everyone has unique knowledge or experiences to share. So we create spaces and opportunities for life-long learners to have the kinds of conversations and forge the kinds of relationships that can change their lives.
---
Much more than facilitating the simple exchange of business cards, our work is to create truly genuine moments of inspiration and exchange. The type of exchanges that lead not only to valuable relationships but also meaningful personal and professional growth.
We know that a community's success is grounded in the growth of all its members and at Braindate we seek to bring out the best in everybody.
How do we do this? We use peer learning to empower our users to have powerful, transformative conversations—the kind that can help them tap into the knowledge of their peers and their community.
So, what is peer learning?
Peer learning is a theory of education that emphasizes learning with and from one another. It embraces the idea that everyone has the ability to learn from each other. i.e. it breaks down the traditional hierarchies of student/teacher or amateur/expert.
Peer learning not only calls on individuals to propel others forward in their respective learning journeys, but demands that each person take responsibility for their own learning.
And it is out of such mutual exchange that strong, and cohesive communities are born. Afterall, when we learn from each other, we grow stronger together.
Why is peer learning at the core of our product and services?
Research over the years has consistently proven that peer learning experiences have the potential to bring out each individual's unique strengths and create a positive psychological experience, Further, when a group of people participate in a peer learning experience, they are more likely to continue working together after a project is over, leading to the formation of meaningful, long lasting relationships.
Peer learning experiences also help individuals retain and understand information better. For example, Mayo Clinic College of Medicine found that when students used peer learning methods, 100% of those who explained course content to their peers said that their own understanding of the material increased, while 97% reported that their retention of knowledge improved. Also, 92% noted an improvement in their communication skills.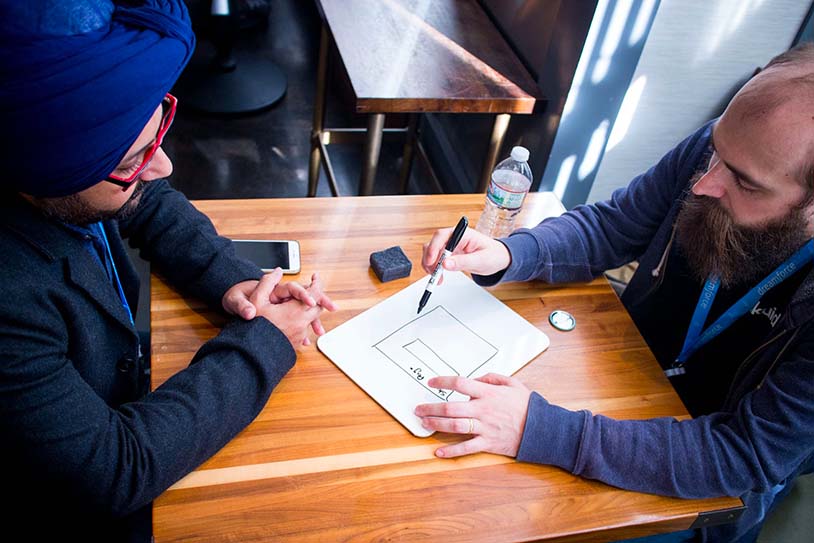 In conclusion, whether it's at an event, organization, or a community gathering, peer learning experiences promote a successful exchange of knowledge, collaboration, and long term growth in individuals.
Braindate's unique approach to peer learning
Over the years, we have developed our own unique approach to creating successful peer learning experiences.
Through our work, we have come to see that a successful peer learning experience is one that is self-directed, experiential and collaborative.
Self-directed: What is meaningful and motivating for you right now? What do you want to learn? What challenges are you facing? How do you define your own success?
Experiential: Learning is iterative—I give something to you, you give something back to me, and out of that exchange we create and experience something new.
Collaborative: We all have something valuable to share. Just like many have helped us in the past, we can also have an impact on others by sharing our experiences and our knowledge with them.
And it is often through something as simple as a conversation, that we can achieve genuine learning. So, we have developed Braindate to facilitate conversations that spark self-directed, experiential, and collaborative experiences.
To put it simply, Braindate is reintroducing "peer learning conversations" into the world as the missing link in our modern learning toolkit.
Bringing the right people at the right time
Even if we can admit that conversation is at the heart of the human project, on the off chance you find yourself drink-in-hand beside that one person you desperately wanted to meet, often nothing can be done to propel the meeting forward.
Maybe the timing is wrong and they've got their plane to catch. Maybe they're scanning the room hoping to be introduced to somebody else. Or maybe the two of you really do have much in common, but are unable to uncover your shared passion.
A genuine exchange with another person doesn't come out of the blue. Knowing that, Braindate doesn't leave it up to chance that you'll have that transformative meeting.
What we're experts at is creating moments that spark real connection and build long lasting relationships. Our passion is curating spaces for genuine encounters. So we approach every element of Braindate's design and implementation with this goal in mind.
How peer learning influences our approach to product design
Braindate empowers people to direct their own learning paths by allowing its users to connect on the topics that matter most to them. Take our topic marketplace for example.
Upon logging into Braindate, every user can post a subject they'd like to discuss in the topic marketplace—a crowdsourced content-stream where users can find conversations they'd like to join.
Whether it be a nascent product concept, a workplace challenge, or a revelatory personal change that cries out to be shared, these self directed knowledge offers and knowledge requests ensure that our users don't meet blindly but can enter easily into purposeful conversation.
As all of the topics in the topic marketplace are user-generated, our clients get valuable insights into the subjects their people are most interested in.
Another feature designed to allow people to take control of their own learning experience is our 1:1 or group Braindate meeting formats. These give users the choice of meeting either 1:1 or in groups of up to twenty people.
While some might be looking for a more intimate or focused exchange, others might want to open themselves up to looser, more dynamic explorations of ideas, or even just orchestrate a brainstorming session.
Our user-driven topic marketplace and customizable conversation formats are just two of the many ways in which Braindate fosters vibrant, collaborative learning communities around subjects which matter most to our users.
Every element of our human-centric product design is conceptualized and developed to help people to learn better, and most importantly, from each other.
How peer learning influences our work with clients
We don't believe in a one-size-fits-all approach. Each client comes with their own needs and challenges. So, we adapt and personalize our services to meet every client's unique objectives.
Depending on their needs or budget restrictions, we offer three levels of support to our clients: Produced, Coached and DIY.
"Produced" and "coached" clients are paired with an Experience Producer who helps design customized user engagement strategies, make sense of real-time data and user feedback, and craft empirically-based post mortem recommendations on how to make the next experience an even greater success.
Whereas our DIY i.e. "do-it-yourself" clients have access to a robust library of resources, templates, best practices – basically, everything they need to autonomously activate a successful Braindate experience.
No matter the level of support our clients opt for, we always strive towards creating a collaborative relationship with them. Our objective is both, to guide our clients, through hands-on support or by sharing resources and to learn from their experiences, so we can come together again to create an even better experience next time.
How peer learning influences the in-person and virtual user experience
People make the deepest connections when they feel open and at ease, which is why at Braindate we put so much care into creating warm and welcoming environments for all our users.
Anyone with a scheduled Braindate will first arrive at one of our Braindate Lounges, which are customized meeting spaces designed in collaboration with our clients. Braindate Lounges introduce an element of fun, do away with the staid office setting, and open up the mind and the spirit. As learning can be dynamic and unpredictable, we've found the best conversations can sometimes happen on a swing, in a tent, or even on the beach.
At every Braindate Lounge, participants are greeted by learning concierges, our friendly and smiling folk on the ground, and online. Real people (not bots), who welcome users, make those first introductions, and over the course of a few days get to know everyone in a client community.
While you may not be familiar with every topic on the Braindate platform, our learning concierges are, and can suggest discussions you might want to join. And while you may not feel you have any knowledge of value to offer your peers, our learning concierges know you do, and can help you discover and define what expertise you might have to share.
To close…
At Braindate we see our mission as no less than unlocking human potential. We believe not only in the intrinsic worth of every person and the value of their knowledge and experience, but that in the march of humanity's greater progress, we all have as much to learn from those around us as we have to share.
By way of Braindate's thoughtful and considered approach to bringing the right people together in meaningful learning contexts, we allow for the magic of self-directed, experiential, and collaborative peer learning to come to life.
By way of Braindate's facilitating genuine exchange between curious and questioning individuals, we allow people to walk away from their conversations not only invigorated and inspired, but with newfound friendships, communities, and collaborators.