How to Have Engaging Conversations at Virtual and Hybrid Events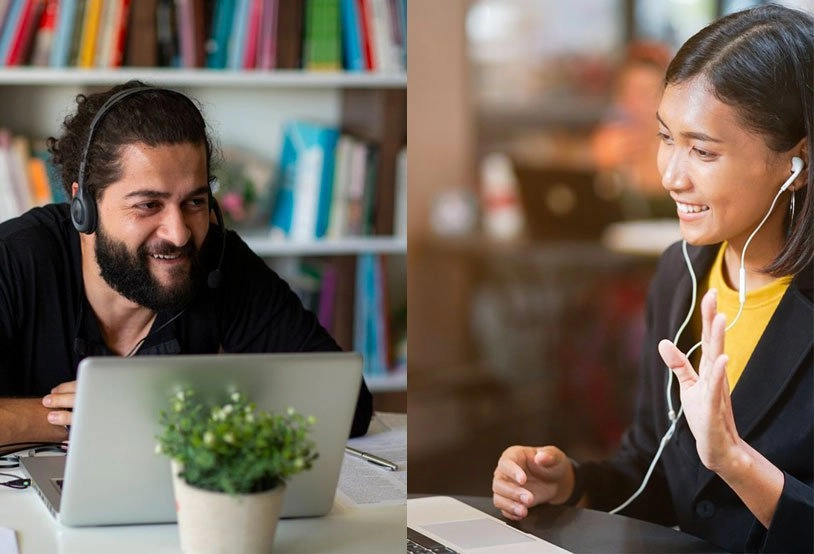 Tips on how to have network better and tap into the knowledge of your community at virtual and hybrid gatherings.
---
At Braindate, we're in the business of conversations. Based on a decade of facilitating thousands of peer learning discussions, we've evolved the Braindate experience and technology so that we can empower you to have the right conversations with the right people, be it at a live, virtual, or hybrid gathering.
In this article, we're addressing one of the biggest challenges facing the current virtual event experience: the lack of meaningful exchanges between participants.
Event organizers have gotten good at delivering and repurposing their event content so that attendees remain engaged during and after the event.
However, if you've been to virtual events yourself, how often have you had meaningful exchanges with other attendees? And we don't mean sending messages in a Zoom chat or during a session or connecting with someone for 15 minutes during a speed dating-style networking event.
We're referring to the deep, authentic conversations that lead to actual results like, the beginning of a friendship or a future collaboration, getting support on a challenge you're facing, or leaving the discussion inspired with new ideas.
"How often have you actually had meaningful exchanges with other attendees at virtual events? The kind of conversation that stays with you long after the event is over. Those types of interactions were a staple of the in-person event experience. In a virtual context, they have become a rarity."
Those types of interactions were a staple of the in-person event experience. In a virtual context, they have become a rarity. But that doesn't have to be the case.
Event planners can create conditions where such valuable exchanges can take place. Participants, on the other hand, can experience true community at virtual events if they simply approach their event experience with a bit of intention.
Event Planners: participant autonomy is a necessary condition to make great conversations happen
Our experience facilitating conversations at both in-person and virtual gatherings has shown us that participants have the most engaging and relevant conversations when they are given autonomy to direct their own experience.
If you're a planner reading this, here's what we mean: the event should be designed in a way that participants have the space and time to discuss what is most important to them, and choose who they would like to speak with.
We've been seeing a proliferation of networking solutions that offer AI-driven matchmaking or speed-dating style connection experiences. While these solutions are great for generating a high volume of connections, they rarely lead to participants having memorable conversations.
A quick Google search on articles about "how to have better conversations" suggests that the secret to better conversations is intentionality. To put it simply: you're more likely to have a satisfying conversation if you go into knowing exactly what you would like to talk about. That sense of purpose makes it easier to break the ice, avoid awkward moments, and make better use of your precious time.
When a participant is randomly matched with another person via speed-dating or is recommended a connection based on their job profile or generic interests, it takes away the feeling of purpose. Since the participant hasn't chosen this connection themselves, they are often left wondering: How do I start this conversation? What do I talk about?
"The secret to better conversations is intentionality. You're more likely to have a satisfying conversation if you go into knowing exactly what you would like to talk about. That sense of purpose makes it easier to break the ice, avoid awkward moments, and make better use of your precious time."
As a planner, you can create conditions of autonomy where participants can approach the connections they make (and conversations they end up having) with intention.
Four ways in which event planners can facilitate better conversations at their events:
Encourage participants to choose who they would like to connect with ahead of the event and create blocks of time where they can have meetings with each other.
Help participants get the most out of the event by asking them exactly what they're interested in talking about and then create networking rooms where they can have those discussions. Braindate is great for that!
Supply participants with fun conversational prompts so that they can break the ice and start their conversations from a place of play and humour.
If you're using an AI matchmaking solution, find ways to recommend connections based on data that goes beyond job titles and generic interests. While we do not offer AI based matchmaking on Braindate, we've designed our participant profiles to share more "human" pieces of information about our users. This enables participants to form connections with each other on a more personal level.
As you plan future virtual and hybrid experiences, really prioritize making space for real conversations. It is worth it, as it can yield great long-term results for your participants—the kind that will make them want to return to your event year after year.
Over the years, our users have shared the results of the great conversations they've had using the Braindate and the result is that 81% of participants who braindated reported that the inclusion of Braindate would make them more likely to attend a future event.
In the section above, we addressed the basic conditions that planners must create for their participants to have great conversations at their events. However, we also recognize that planners can only create the right conditions. Ultimately, it's up to the participant to step out of their comfort zone and meaningfully connect.
Unfortunately, the virtual setting does not make it easy. With an absence of serendipitous hallway encounters, when you connect with a stranger, what do you say to them? How do you start the conversation? How do you keep the conversation going beyond the first five minutes of small talk? Most importantly, how can you be sure that this will be a good use of your time?
So, in the following section, we're sharing tips participants can use to have better, more intentional conversations with their peers at virtual and hybrid events.
Five tips to have better conversations with other participants at virtual and hybrid events
1. Approach conversations with a collaborative learning mindset
At Braindate, our mission has always been to help people learn from each other at events, organizations, and communities. That is why our approach to facilitating conversations is based on the idea of collaborative learning.
Collaborative learning is an educational approach to learning that involves groups of people working together to solve a problem, complete a task, or create a product.
In a collaborative learning context, every person in the group is the teacher and the student. They all work towards a common learning goal, regardless of their level of skill or expertise. That is to say, when it comes to collaborative learning, what matters is what you know, rather than who you are.
To approach a conversation with a collaborative learning mindset means to go into it with openness and the desire to identify common goals, and find ways to accomplish them together.
Having this mindset allows you to be more present and pushes you to ask more questions, find commonalities—all great ways to have a more engaging conversation.
2. Be specific about what you would like to talk about
When you reach out to a fellow participant to book a meeting or to start a conversation, you're more likely to have better results if the other person knows exactly what you'd like to talk about, and why you're reaching out to them.
Eliminate the awkwardness and uncertainty of speaking with a stranger by letting them know what you both can gain from the conversation. This approach will also ensure that you make the most of the time together by diving into subjects you're most excited to talk about.
To help our users have more focused, relevant conversations, we recently added the feature of "conversation formats" to the Braindate platform. Now, when a user posts a Braindate topic, they can assign a conversational style to their discussion, letting others immediately know what they can expect, or gain from the conversation. The formats include Storytelling, Ask Me Anything, Help Me Solve, Open Discussion, and Friendly Debate.
For example, if a user posts the topic: B2B marketing strategies and tags it with the "Ask Me Anything" conversation format, other participants will know that the user is open to sharing their expertise. The result: more relevant conversations that lead to the formation of genuinely valuable connections.
Even if Braindate is not available at the next event you're attending, you can still take inspiration from the spirit of intentionality behind our conversation formats feature. So, next time you reach out to a potential connection at a virtual or hybrid event, be intentional, and let them know why you would like to talk about, and what they can gain from the discussion.
3. Don't be afraid to let your personality show
If you're at a virtual or hybrid event, chances are that you're finding people to connect and speak with through a participant directory or during a networking session. In both those situations, it's common for people to begin the conversation with stock questions like, "Where are you from?" or "What do you do at ABC company?"
While these are fine conversation starters, don't be afraid to go off-script and connect with someone on a more human level, by sharing interests or opinions that make you uniquely you. What this means is: instead of the standard "what do you do at ABC company" ask them about what they like to do when they're not working. Or share why certain takeaways from an event session you both attended, resonated deeply with you.
People want to express themselves and often you have to permit them to do so by being your authentic self.
On Braindate, we facilitate this kind of interaction through our participant profiles. We have designed them to share insights on participants not only as professionals but as multi-dimensional human beings.
For example, you may want to reach out to someone because they're a Virtual Event Designer, to discuss best practices on event design. When you go on their Braindate profile, you discover that you both also share a love for Agatha Christie novels! This gives you, the participant, the opportunity to bond with another person over your shared passions – which leads to richer, more vibrant conversations.
4. Practice active listening by making space for others to share their thoughts freely with you
Active listening involves being present and listening to the other person. The goal is to make space for the other person to freely express themselves and to understand what they would like from your discussion. Are they looking to simply chat and exchange stories? Or are they looking for advice? Perhaps all they want is for someone to listen to them.
Whatever it may be, active listening will help you make the conversation a memorable experience for both you and the person you're speaking with.
We know that listening is an art and we recognize that we could all benefit from more support and tips on how to become better listeners. That is why our team of Learning Concierges is trained to not only provide live tech support but also share tips on how to have better conversations.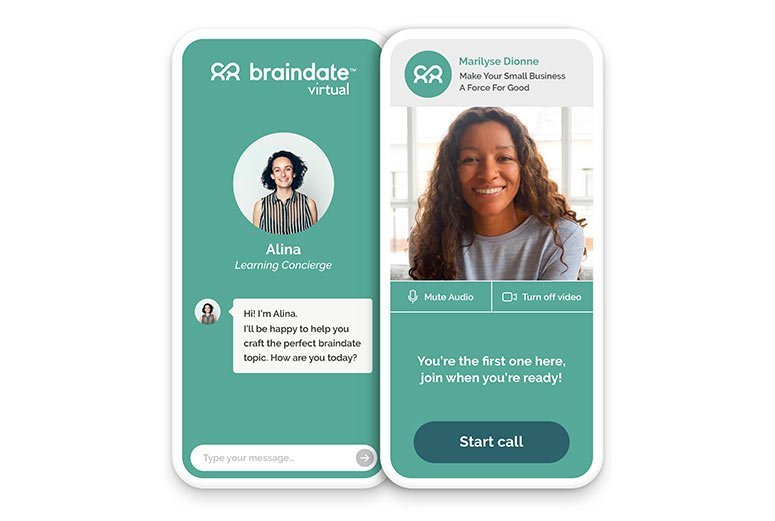 We let our users know that they can always reach out to our Learning Concierges for advice on how to host a successful group discussion, the best message to send when reaching out to another participant, and how to choose the right conversations to join.
5. Always follow up
Our final tip is less about how to better converse with someone and more about maintaining the connection and keeping the conversation going.
No matter how long or short your exchange with someone, make sure to share your information and follow up with a thoughtful message. This does two things: it opens up the possibility for reconnecting in the future, and it shows the other person that you're not just mindlessly 'networking to network.' It shows that you are someone who is intentional and that the time you spent speaking with each other was not wasted.
Unfortunately, many virtual events offer a pretty limited connection experience is limited. Despite that, you can still have great conversations—you simply have to expand your idea of what a conversation could mean.
A great conversation doesn't have to be limited to a single moment or an hour. It can start with a short, but intentional exchange (like in a Zoom breakout room) and continue over weeks or even months. For that to happen, following up is key.
While our solution is designed to give participants ample time to participants to have deeper conversations, our platform still prompts users to share their contact information so they can follow up with each other later.
We believe that a simple conversation can be the start of something great, and so we want to make sure that our users can easily reconnect with each other and continue talking, even if it's not on our platform.
---
These tips are based on existing Braindate platform features that have been specifically designed to elevate conversations and help participants effectively learn from and connect at events, companies, and communities.
Even if you're not using Braindate, we hope that you can still use these tips to go beyond small talk and dive deep into the kinds of conversations that you want to have at virtual and hybrid events.
Hungry for more? Keep reading:
Free resource
52 Powerful Conversation Starters
By downloading this content, you agree to receive the Braindate Monthly Newsletter to which you can unsubscribe at anytime.